Skip to content
Skip to navigation menu


Children are born inquisitive and curious, with a natural inclination for adventure of all kinds from the moment they start exploring their world. You don't have to travel far to provide opportunities for adventure—with a little creativity, you can create your own adventure right in your backyard. Here are some tips for building adventures at home by: getting up close with nature; enjoying classic family games in your backyard; challenging your skills on an obstacle course; and staying cool with water play for all ages!
Getting Up Close With Nature
Each year on April 22nd, billions of people from over 190 countries all across our globe recognize and celebrate Earth Day. Your children can show honor and respect for our earth simply by appreciating the beauty our natural home has to offer right in their own backyard! Encourage them to explore hidden corners of the property, uncover tiny creatures hiding under rocks, or just stretch out and observe the clouds...these are all simple ways to appreciate our beautiful planet—and these experiences lead to adventures in exploration!
If you want an easy and fun way to get kids interested in keeping our planet healthy, try starting summer plants in newspaper seedling pots.
Enjoy Classic Family Games in the Backyard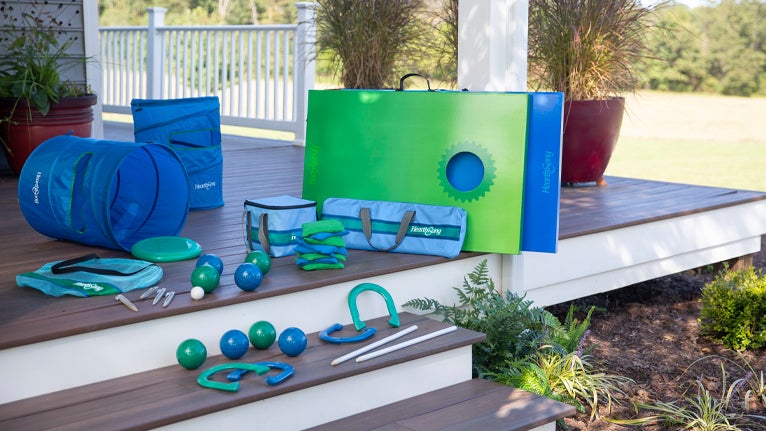 We're all a little nostalgic for simpler times. Why not add a classic game that has stood the test of time to your next backyard play-adventure?
Just for kicks, did you know?
· Bocce ball was first discovered on Egyptian tombs.
· Some say cornhole was invented after watching children toss rocks into a groundhog hole (poor Punxsutawney Phil can't catch a break!) And if you land three corn holes in a row, you've earned a Holy Moly Triple Cornholey!
· The inventor of the flying disc got his idea from throwing popcorn tin lids with his girlfriend.
Try any of our backyard family games today and enjoy an adventure in classic play!
Challenge Your Skills With an Obstacle Course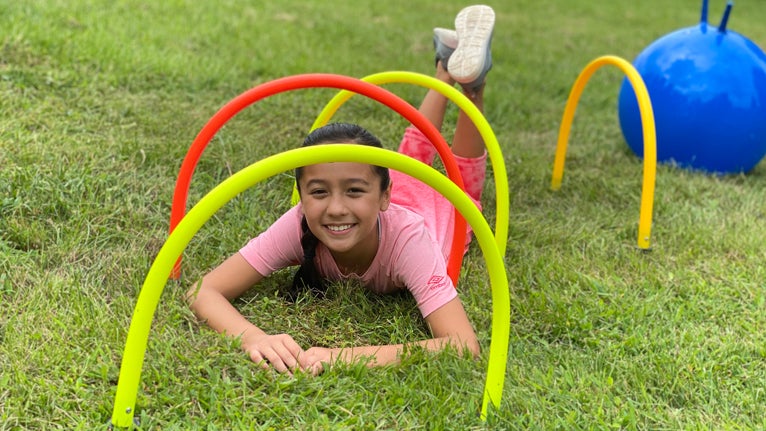 Who doesn't remember setting up an obstacle course in the backyard or basement? These challenges can be set up for any age, anywhere, and with any materials you have on hand. Start out easy for younger kids by creating a chalk obstacle course on your sidewalk or driveway—instruct little ones to follow the line, spin on a circle, or turn around on a triangle (a great way to reinforce early shape concepts, following directions, and understanding sequencing and memory!)
Use your backyard space to get kids moving—run around the house three times, jump on the trampoline 10 times, do somersaults across the front yard, and finish up by completing 15 jumping jacks. This is a great party game as well—see who can complete the course in the shortest amount of time!
For the ultimate backyard obstacle course adventure, test your warrior skills with one of our exclusive Ninjaline™ Hanging Obstacle Course Kits. Developed with the help of professional athletes, these versatile courses include strengthening challenges like monkey bars, gymnastics rings, and a rickety bridge. While zipping through the obstacles, kids will be building upper body and grip strength, testing their balance and coordination, and improving their fine and gross motor skills.
Staying Cool With Water Play
When the heat starts to crank up, turn your backyard into an oasis with water toys that provide sensory, sprinkly, or slippery fun! HearthSong has adventures in water play for every age—whether you're looking for safe sensory water play for the littlest ones, or super-sized inflatable sprinklers and water slides. With HearthSong's exclusive and fun water toys, you can set up the best waterpark in the neighborhood right in your backyard!
Ready for an adventure? Come Experience the Adventure of Play™ with HearthSong!