Skip to content
Skip to navigation menu

"Over the river and thru' the woods, to grandmother's house we go"...we're not likely to hear enthusiastic kids belting out this familiar jingle from the back seat of the mini-van this year. Chances are you won't be loading up for a family road trip, baking last-minute treats for a classroom holiday party, or showing off your festively decorated home for a Christmas Open House. But while the 2020 Holiday season will certainly be different, you can still enjoy favorite family traditions-with perhaps a new virtual twist. And this may be the perfect year to create NEW ways to spend quality time with the ones you love and start new traditions! All it takes is a little thinking outside the box-and we've done a bit of the work for you. Read on for new ways to enjoy holiday traditions at home.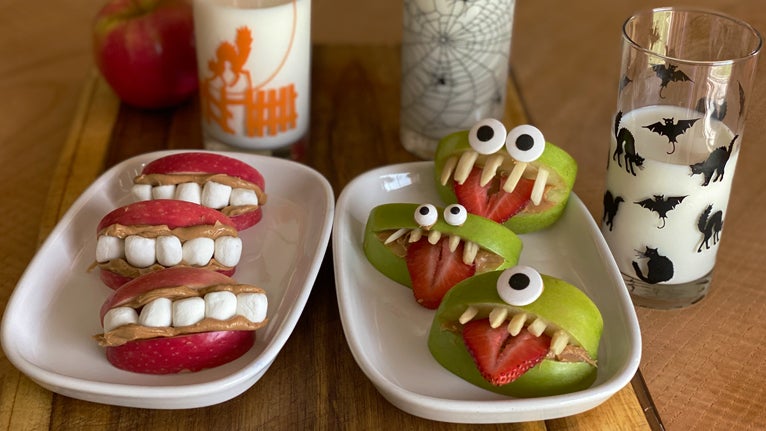 HALLOWEEN
You may not be toting trick-or-treaters through the neighborhood this year begging for favorite candy treats. But your little goblins can still enjoy dressing up their playroom or family room with easy-to-make crafts and decorations, or get creative in the kitchen with pantry staples such as apples and strawberries to make silly, spooky, yet healthy snacks. Check out more kooky crafts, scary snacks, and catchy costumes for your haunted Halloween home in our resource links below.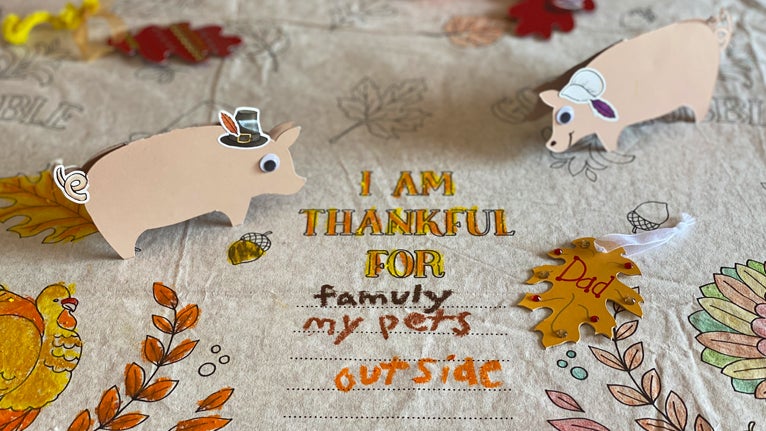 THANKSGIVING
Thanksgiving can sometimes get overlooked by the busyness of the upcoming Christmas season. The silver lining to being forced to stay closer to home this year? We are gifted with more time to reflect on what we are thankful for (and isn't that what Thanksgiving is about?) Raising grateful kids will go a long way towards teaching and exhibiting empathy, and also developing a sense of contentment.
In the days leading up to the big day, let your kids design and create an "I'm So Grateful" placemat. They can draw pictures representing some of their favorite things to do, or write out notes recognizing the people in life they are thankful for. Provide colorful crayons, markers, and stickers to make the placemat pop; and when the decorating is done, use self-adhesive laminating sheets to cover their placemats.
Dress your dinner table with our Table Decorating Kit which has everything you need to dress up your holiday table. And for a centerpiece? Craft a Gratitude Jar! Just decorate a large canning jar with autumn-colored paper, strings, stickers and more. Have everyone write what they are thankful for on individual strips of paper and place them in the jar. After dinner, while the scrumptious meal is digesting, take turns reading the slips aloud.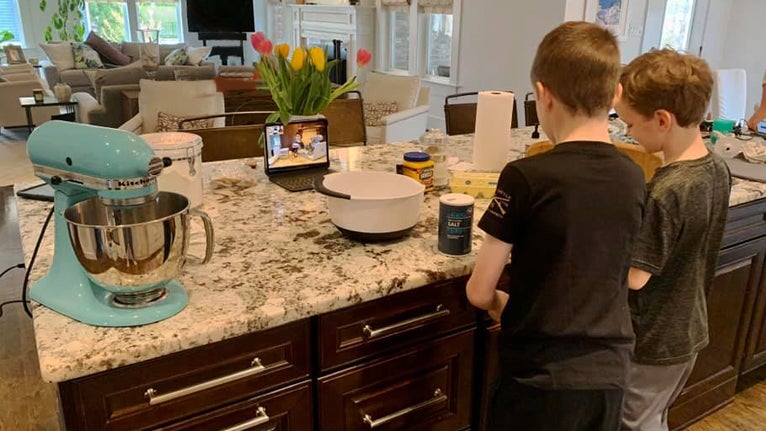 If you can't share the table with your extended family in person this year, you can still bake "together"! Let each of your kids be responsible for one of the Thanksgiving meal's offerings, and use your favorite virtual meeting app to be right with Grandma or that aunt who loves to bake. Budding bakers and chefs will have instant access to clearing up recipe questions (nutmeg or cinnamon, Grandma?), plus the bond of creating something together.
Play a "thankful" version of the Alphabet Game. Going around the table, have each person share one thing they are thankful for. The first person's word must begin with "a", the next person's word must begin with "b"...all the way down to "z". Keep the fun rolling after dinner with HearthSong's family-friendly games.
Kids can also show their gratefulness by picking up litter on a walk, donating food to a food bank, taking family snapshots and sending them to far-away loved ones, picking out toys to donate to less-fortunate kids, and helping mom and dad clean the house.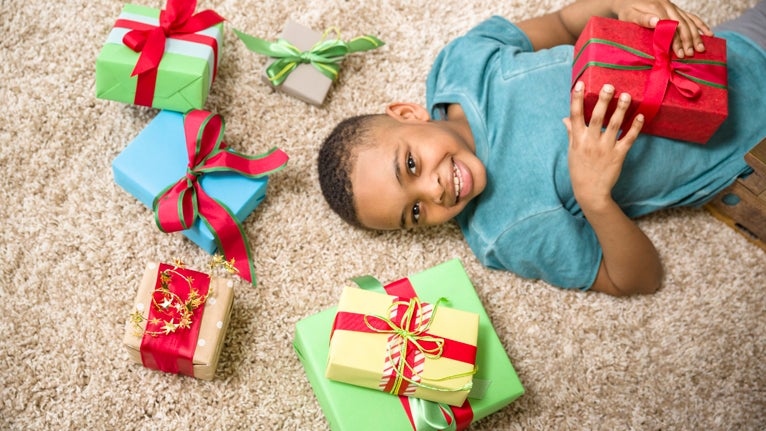 CHRISTMAS
The Christmas season is often surrounded by hustle and bustle-frantic midnight shopping, over-booked schedules and over-tired kids, and last-minute baking for classroom holiday parties. This year, prepare ahead, and get your gifts early so you can really participate in the Christmas spirit! If you need help checking off the gift list, come see what's NEW at HearthSong.
Challenge your kids to a Christmas Scavenger Hunt. Write down holiday-themed clues on little bits of paper (such as "Brown paper packages tied up with strings, you'll find your first clue where your mom hides her rings.") Scatter your clues throughout the house in age-appropriate hiding places, and let them find their surprise! Here's some inspiration for small treats to include in your hunt.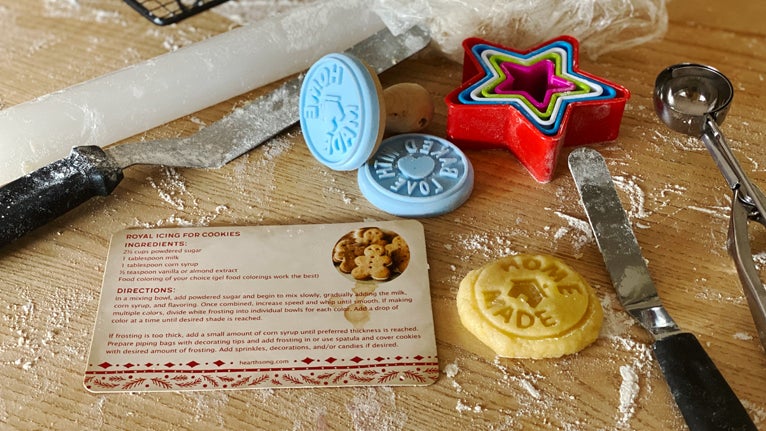 No classroom cookie exchange this year? No reason to deny the finger-licking fun of baking up tasty treats together!. Turn it into a friendly baking competition and host a Kid's Cookie Challenge amongst siblings, or even Mom vs. Dad! All you'll need is a batch or two of your favorite cookie dough and bowls of your kids' favorite add-ins like chocolate chips or pecan pieces. Who can come up with the most creative concoction or deliciously designed cookie?
Now, about those shiny wrapped presents...what's your Christmas morning tradition? Are the kids up at the break of dawn tearing apart wrapping paper? Or perhaps you enjoy sipping on a mug of hot chocolate while the children patiently take turns opening gifts under the tree. No matter what your tradition is, the anticipation of wondering what's inside a brightly wrapped gift is half the fun of opening it. If you can't open gifts this year with all your loved ones under one roof, use a virtual meeting app so grandma and grandpa can see the look of excitement in childrens' eyes (and hear their squeals) when they open their thoughtful gifts.
We'd love to hear what creative ideas your family is concocting this year for the holiday season. Share with us! #HearthSong
ADDITIONAL RESOURCES