Skip to content
Skip to navigation menu


It's something that all parents struggle with: managing the amount of time your child spends on screens. Most children spend anywhere from three to five hours a day on devices, which far exceeds the American Academy of Pediatrics' recommendation of one hour of high-quality programming at the most. Yet many young children already have iPads, iPods, or smart phones and spend most of their time hunched over, relentlessly scrolling through social media, texts, and game apps.
And while it's common for kids to be glued to screens, the risks of too much time staring at them are high. It can result in sleep disorders, addictive behavior, problems focusing, and challenges with connecting socially and emotionally. It's not enough for kids to put down the devices – they need to spend time playing, both inside and outside. Free play allows children to develop creativity through using imagination, as well as physical and emotional strength. While screens can stunt social and emotional development, play is what allows our children to grow and flourish.
The good news is play is fun! With some guidance and direction from you, your child will be quickly inspired to put down that device and engage in creative and active play. Here are some ideas to get you started: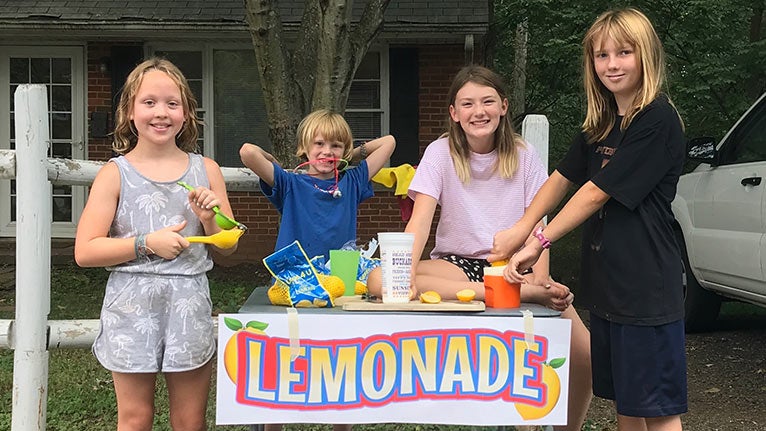 1 - Set up a lemonade stand
With a table, a sign, and some homemade lemonade, you can have a fun business right in your front yard! Here's a quick and easy lemonade recipe: Squeeze the juice of eight lemons into a pitcher, add two cups of granulated white sugar and eight cups of warm water (so the sugar will melt). Once it's blended, let cool, and add ice. Then set up your stand to make new friends and customers!
2 - Play "I Spy" on a walk or car ride
"I Spy" is a simple way to have fun with your children while engaging them in the world around them. You take turns choosing an object and describe it generally by saying "I Spy something (size) and (color)," then the other person has to guess what that object is. Keep score or don't. Either way, it's great way to build cognitive and language skills while having fun!
3 – Grow your own plants
Kids have a natural curiosity and love of nature, and growing their own plants is a vital way to engage them in the natural world. With our Jack and the Beanstalk Garden Tower, they can watch the magic of nature right in their backyard as the vines grow up the pole. Gardening enhances the part of the brain involved in creative thinking, and the added element of characters from this childhood classic lets kids tell a story while learning about nature.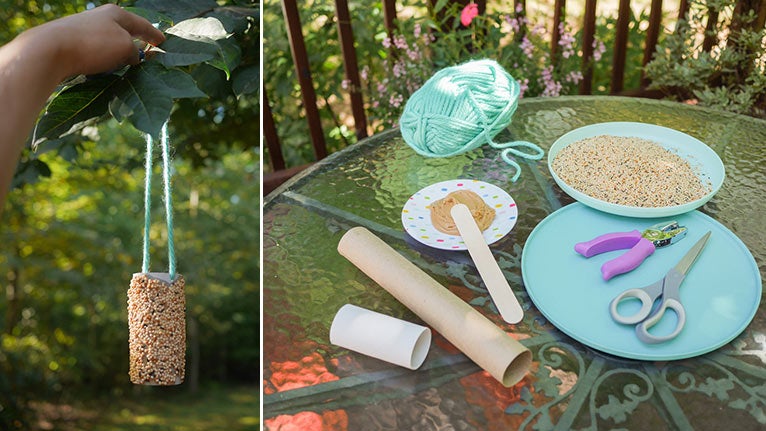 4 - Make a bird feeder out of toilet paper rolls Lay out birdseed on a plate, then spread peanut butter on the tube. Once covered, roll the tube in the birdseed, completely covering it. Poke a small hole on one end of the tube and thread some sturdy string through it. Tie the ends of the string, and hang it from a tree where you can watch from the house. You'll have new bird friends in no time!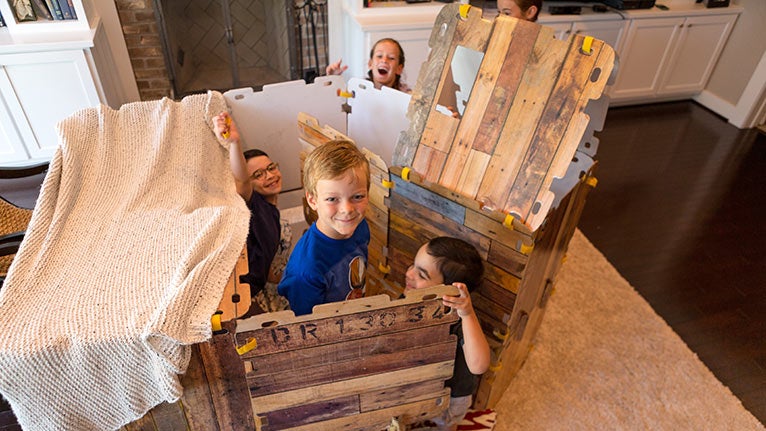 5 - Build a fort
Building forts is one of the most fun things kids can do, and it satisfies their craving to have a private play place of their own. Our Fantasy Forts are a dream play space for kids and fills their need to exercise while expressing their independence and unique personalities. The fort relies on kid assembly so they develop building, cognitive, and problem-solving skills. It's one of the best ways to foster hours of imaginative, creative, and active play for children and their siblings or friends.
6 - Write a play and act it out
Either with a friend or sibling or alone, write a play and then act it out for an audience. You can use things you find around the house for props. Make a homemade costume or check out our dress-up collection for inspiration! It's a great way to encourage creative and active indoor play, especially on rainy days. If kids are feeling extra bold, they can put on the show for a neighborhood audience.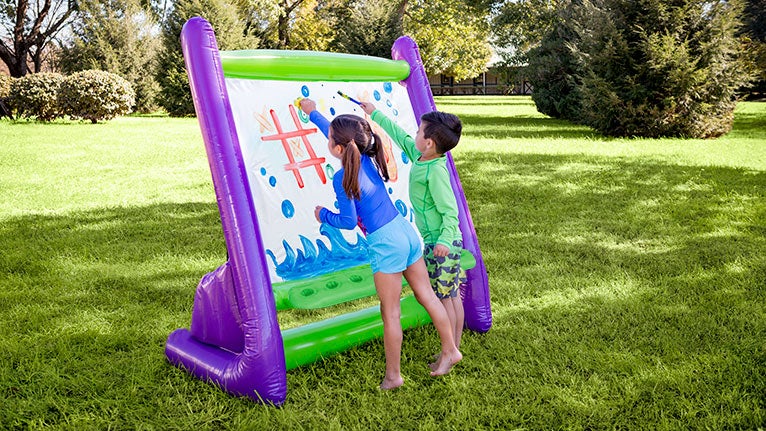 7 - Make backyard art
Combine two things kids love for an all-afternoon fun fest: the outdoors and art. With our Giant Inflatable Easel, children can spend time outside while making a masterpiece. For extra fun, collect rocks, leaves, and flowers to decorate. Use them as inspiration for a painting or add arrange them around the easel to create a fun backyard scene. When they're done, just hose the color off the easel and start again.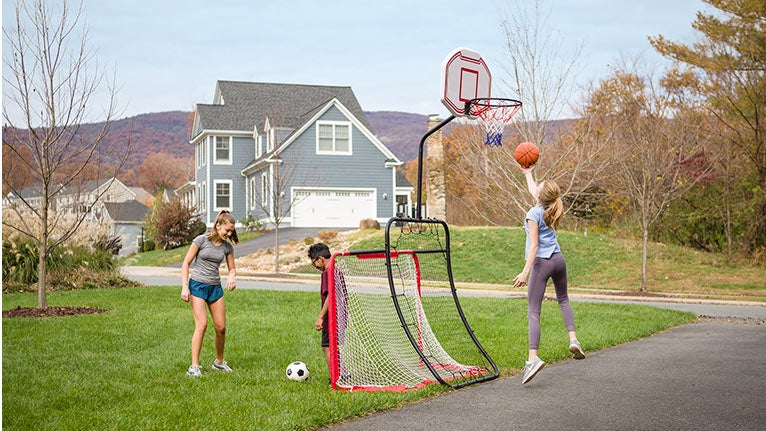 8 - Play "HORSE" with a basketball and hoop
You don't have to be an athlete to enjoy basketball. You can use a neighborhood hoop or find a public playground to play this game. If you don't have a basketball hoop in your neighborhood, check out our All-in-1 Sports Set. "Horse" is a game where kids make a basket and then the other player has to make that same basket or they get an "h" and then an "o" until they've spelled "horse." The winner is the one who avoids spelling the whole word. Play with different words to test spelling skills. A super fun way to engage in active play while building language skills.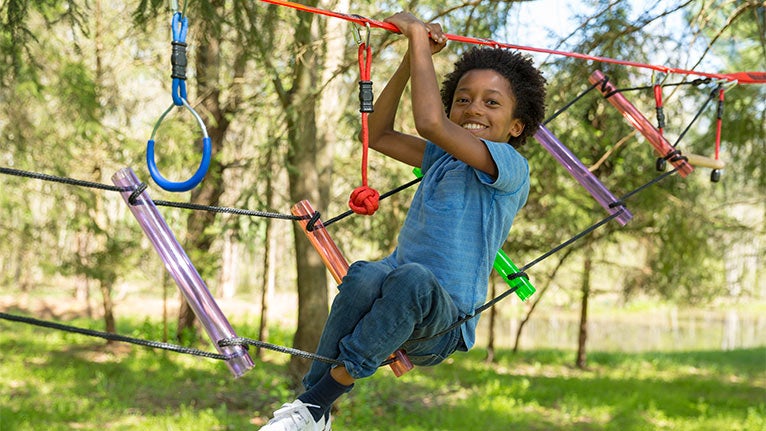 9 - Pretend you're a ninja on a mission
Playing make-believe is not only fun, it develops creative thinking and problem-solving skills. Kids can imagine they're a ninja on an exciting mission with our Deluxe Ninjaline. Amazing obstacles let children feel like they're on an adventure, trying to save the day, while building strength and agility.
10 - Organize a friendly game of backyard tag
Backyard tag is a time-tested way to get kids active. The thrill of chasing and being chased is exciting and builds physical strength. One child chases others trying to touch them, which makes them the one who then has to chase the others. (This person is usually referred to as "it.") The game can continue as long as kids want to play. It's a great way for kids to burn energy while laughing and being silly.
We'd love to hear your thoughts–on this topic and more! How are we doing?