Skip to content
Skip to navigation menu


One ingredient that guarantees indoor, outdoor, anytime fun for the kids is...water!
Water engages the senses, it's calming, it cools in hot weather and builds snow creatures after winter blizzards. Best of all, water is good old, never-go-out-of-fashion active summer fun.
Safety First: Water Signals Danger.
At all times, water play absolutely requires an adult's undivided attention. Statistics indicate that the #1 fatal occurrence among toddlers is accidental drowning, so before we dump buckets of wildly wet & water-y ideas for summer water play on you and yours, let's talk safety.
Join the fun.
· Put away the smart phone (yours-theirs-everyone's
· Let the chores go
· Keep a vigilant eye on your children
· In fact, join them—and bring along sunscreen!
It's just water.
Clothes will dry. Hair will dry. Furniture will dry. If you're worried about a mess, invest in non-slip water shoes and dress the kids in old clothes, and when it's warm enough, go with bathing suits.
Learn CPR
A quick search online reveals multiple options for CPR training, from in-person courses suggested for childcare professionals, to booklets available for general download. The American Heart Association offers an excellent, inexpensive kit for parents and grandparents. This course teaches child safety techniques for water and other emergencies, and is designed for adults learning at home.
Send it Gurgling Down the Drain (or water your garden)
After play, dump water out of all bowls, pans, buckets, and kiddie pools. Close and lock access when your water is a swimming pool. And lastly, mop up any standing water indoors and outdoors to prevent slips and falls.
Now, on to the fun!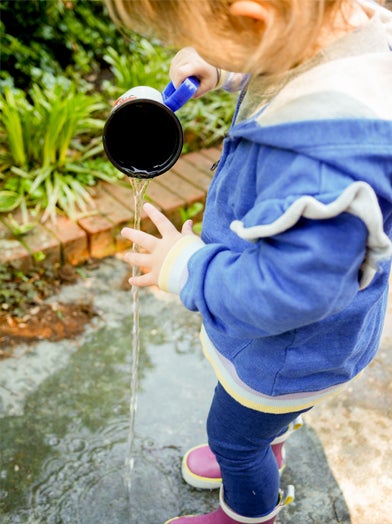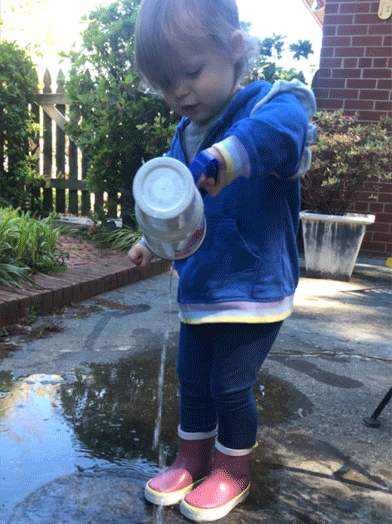 Younger Kids
Very young children explore this big world through their senses, so water play is as good as it gets! An afternoon spent playing with plastic containers in a tub of water is absorbing early science: small containers fill faster than large ones, and watching how water flows through sieves will absorb toddlers for hours. Pebbles and sticks make dams and bridges; paper cups dissolve under the wetness of water, while time spent sitting in the sun heats and evaporates water.
When they're ready, take your littles into big water. Start with baths, and move up. Hold them close and explain what's happening. Dip their toes and drag their fingers through water. Scoop water over their bellies and giggle with them. Inflatables and water toys like this one are great props for water show and tell and play.
Swim! Swimming lessons for young children involve singing songs, blowing bubbles, and learning to jump confidently into water. The pace is gentle, and parents watch the action poolside to give comfort to swimming newbies. Tip: if your child resists swimming lessons, show them photographs of swimming animals, especially baby animals swimming alongside their parents!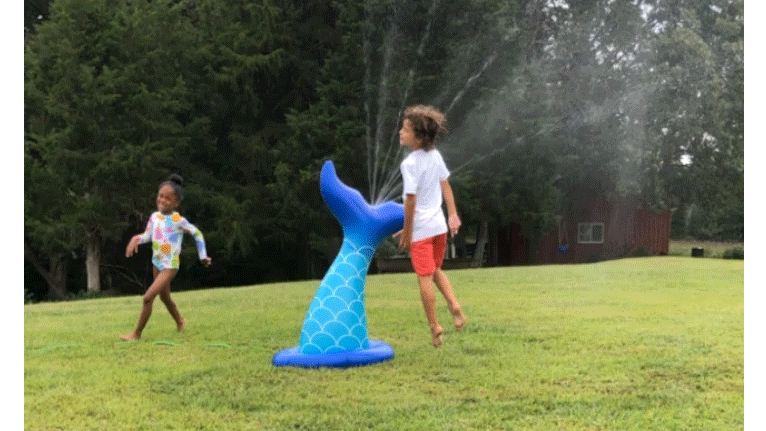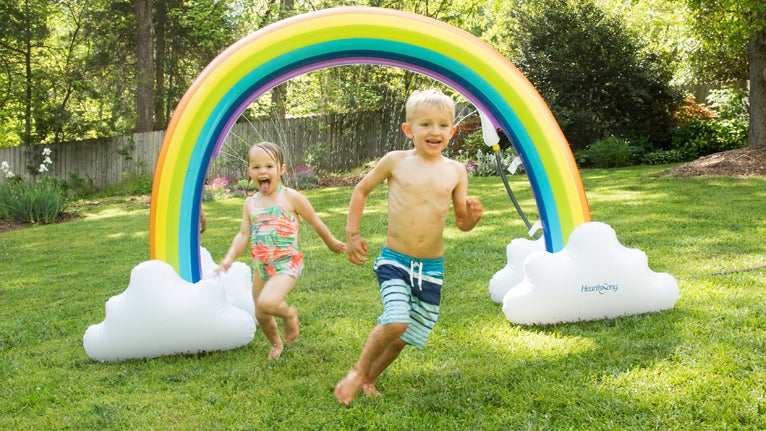 Older Kids
Inflatables like these add a ton of fun to backyard summer play! Sprinklers and pool inflatables will entertain multiple kids at a time, offering plenty of muscle-building exercise, and we all know that it's fun for younger and older kids, alike.
No inflatables? No problem. Convert classic backyard games into watery challenges: Liquid Limbo, Dribble Dribble Drench, Water Balloon Pass, and Squirt Tag, for starters. And never underestimate the idle pleasure of chillin' in a kiddie pool. Grab an ice pop on your way (we vote for orange, or maybe strawberry mango).
Put independent kids to work with the promise of earning some cash—aka the family car wash. Oh, yes. No car? Wash windows! A job that includes a garden hose, a bucket of soapy water, and an awesome playlist is not a bad way to pass a summer day, especially with the promise of pocket money ahead.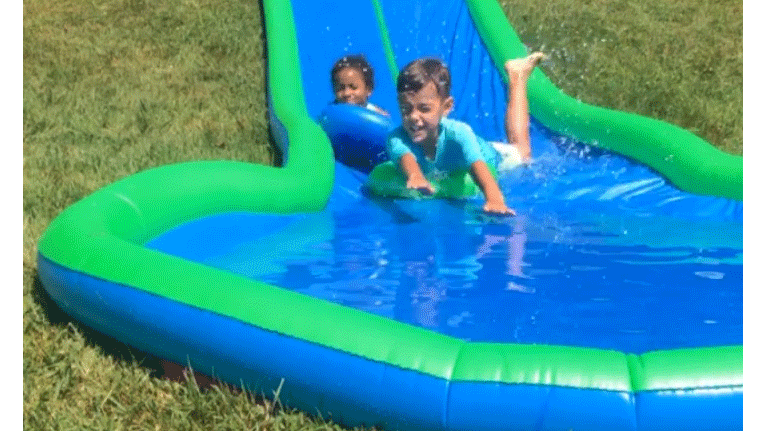 It's so simple: this summer, you bring the water and your kids will bring the fun. They want to run, and yell, and laugh without a care in the world—and we want that for them. Happy days ahead
We'd love to hear your thoughts—on this topic and more! How are we doing?