Skip to content
Skip to navigation menu

How to Throw the Best Backyard Camping Trip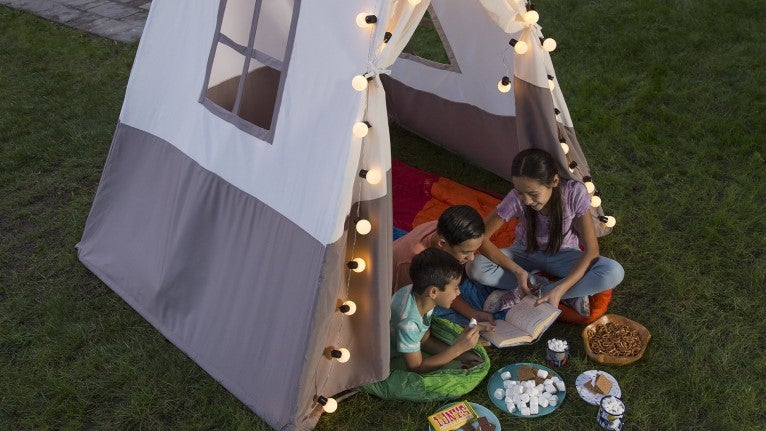 Some kids are always ready for a far–out camping adventure in the heights of the mountains or the depths of the woods. But younger children (and those new to roughing it outdoors) might feel a little more comfortable staying close to home, i.e. the backyard. Backyard camping is a low–stakes, low–risk way to introduce children into the world of camping outdoors; a great way to make the most of a weekend with gorgeous weather; and an opportunity to get high-energy kids OUT OF THE HOUSE!  
We asked Mike—father of 5 and avid hiker and camper, (who has hiked the highest points in all 48 states, but who more importantly appreciates the simplicity and beauty of camping in the backyard together with his children)—what's so special about this outdoor experience? He states that in addition to providing a "shared experience to build a strong relationship" with each of his children, and "actually being able to see the stars", introducing kids to camping skills "builds confidence to learn how to do things for yourself...(oh, and it helps overcome fear of the dark!)"
This staycation requires no bulky suitcases, no "are–we–there–yet" long car rides, and also makes for a terrific sleepover party or birthday celebration. And, it's easier than you think to turn your backyard into a campsite. You just need a little bit of space, a few simple camping necessities, and some time set aside on your busy calendar, to enjoy this simple pleasure with your family!
What supplies do I need for backyard camping with my kids?
Your children should pack their own bag (learning responsibility and preparedness) with everything they would need for a real–life overnight trip in the great outdoors: pajamas, change of clothes, camera, books, (compass, canteen, and binoculars are a bonus). Insist on NO ELECTRONICS (parents, too)! In addition to those essentials, you'll need the following:
1. Tent
If you don't own a tent, you can tie a nylon cord (or clothesline) between 2 trees, hang a tarp over the line, and secure it to the ground with stakes. Add a weather-proof ground tarp and you're all set!.
2. Sleeping bag and blankets
If you're camping in cold weather, you'll definitely want to have a down sleeping bag on hand to ward off the chills! But for a typical summer evening, kids will love our soft, cotton Woodland Sleeping Bag — it even features a plump, built–in pillow for a cozy night's rest.
Don't forget plenty of soft blankets to snuggle with.
3. Lights
A good flashlight is a must for any outdoor evening adventure–and make sure it has fresh batteries before the trip begins!
Have a camping lantern on hand for late-night storytelling and card games.
If all else fails, grab your Christmas lights out of the attic and re–string them for the occasion. (We won't tell if you leave them up until December).
4. Fire, matches, and water
Nothing sets the mood like a campfire to cook outdoor treats, and to sing around late into the night. Have a responsible adult start (and tend) your fire (but please consult your state's fire regulations before striking that match). Make sure you have plenty of water on hand for dousing the fire before you nod off in the evening.
5. Camp cooking materials:
Keep it simple with a few nearby sticks to roast hot dogs and marshmallows over the open flame.
An all–inclusive mess kit, sold at most outdoor stores, includes durable camping dishes for all your camping meals.
6. Camp chair:
Portable chairs, similar to what is used at sporting events, will work perfectly fine for backyard camping.
Check out HearthSong's Portable 5-Position Folding Chair for easy seating for both kids AND adults! It's available in 5 different colors, folds flat for storage and transporting, and can be adjusted to 5 positions.
The campsite is all set up; what are some super–fun family–friendly camp activities?
1. Start your outing during the daylight hours with a Backyard Game Day! HearthSong has every family–friendly, competitive but not combative, backyard game your family could dream of playing. Take your pick: Pick-Up-and-Go Portable Cornhole, Bocce Ball Lawn Bowling Game Set, Horseshoes Game Set, Horseshoes Game Set Disc Toss Game Set, and more. The little ones will enjoy our Jumbo Memory Game or Giant Garden Foam Checkers Set.
2. Take your family on a Neighborhood Nature Hunt. Give every participant a paper bag with names of insects, flowers, trees, etc. written on the bag, and let them find specimens throughout the neighborhood and yard. If the item is too big to fit into the paper bag, have kids draw in a journal what they find and share later in the evening around the campfire!
3. Have some Throwback Fun with games that require no equipment and are easy-to-learn: Simon Says, Telephone, Tag, Name That Tune, Charades, or Duck-Duck Goose.
4. Pull out your old Scouting knowledge and teach kids how to tie knots, how to use a compass, basic first aid, and other survival skills.
5. When the lights go down, that's when the real camping fun begins!
Lay a blanket out under the wide–open sky and see how many constellations you can name! You can really stir up the imagination and create "new" constellations.
Tell ghost stories (or remember–when stories) around the campfire. Add a creative spin to story–telling with a story in–the–round, where each person takes turns building up the story as it goes.
Sing family–favorite songs accompanied by a guitar, ukulele, or harmonica.
Catch fireflies in a jar (but do please release the little guys).
NO CURFEW! Expect lots of giggling, tossing and turning, and storytelling late into the night. The memories you're making are worth the hours of sleep you may lose for one night.
What are some scrumptious ideas for the best camping food?
Ah, now it's getting real! Besides your traditional marshmallow, kababs, and hot-dog roasting over the open fire, here's a few extra-special treats we bet the whole family will be licking their lips over:
1. Campfire Banana Boats: A cross between a S'more and a banana split, this delicious dessert is so easy to fix. Just split a banana in half, stuff it with your choice of toppings (chocolate chips and mini–marshmallows, strawberries and chocolate syrup, honey and raisins), wrap your banana boat in foil, and roast it for just a few minutes.
2. Grilled Nachos: Layer all your favorite chips and toppings (cheese, pre–cooked meat, veggies) in a covered foil pan and grill over a fire pit.
3. Dutch Oven Mac 'n Cheese: Take this comfort food to the backyard campground. Combine equal amounts of water and noodles, along with butter and salt, in a Dutch oven; then place it in the coals of your campfire and have an adult place about 15 coals on top of the oven. Cook for 10 minutes (when most of the liquid is absorbed)—then add lots of ooey–gooey cheese (and mustard and garlic if you like). Yum!
4. Veggie Foil Packets: Use whatever produce you have on hand for this tasty, healthy campfire meal (zucchini, potatoes, carrots, onions, and corn are favorites). Smother them with butter and your choice of seasonings; then wrap in foil and grill for about 25-35 minutes.
Remember, if you can't hit the road this summer for a camping trip or elaborate vacation, just open your back door to your next mini-adventure. Whether you're a seasoned adventurer, a once–in–a–while camper, or have roughed it several times—the benefits of backyard camping are invaluable, and we guarantee you'll be turning your summer staycation into a fun family tradition!
Share your backyard camping adventures #hearthsong.