Skip to content
Skip to navigation menu

10 Fun Sensory Bin Activities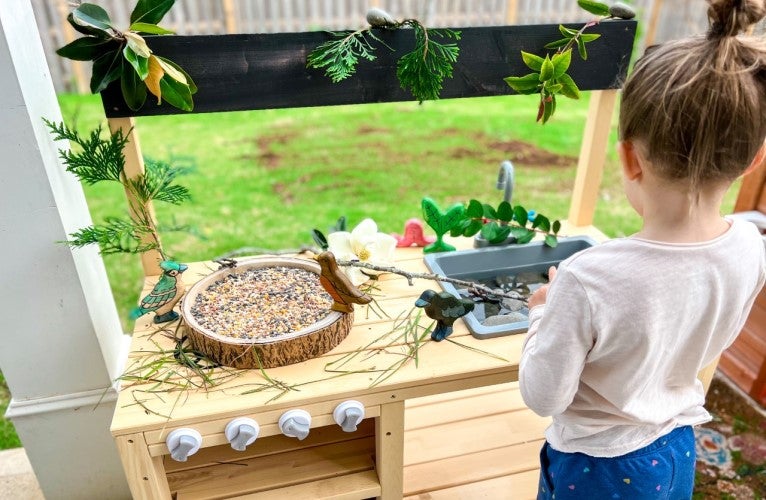 The word SENSORY has been trending in kids' toys, games, and activities. But do you really know what that word means, or how it applies to your unique child?
SENSORY: related to sensation or the physical senses; transmitted or perceived by the senses; something that has to do with the 5 senses: sight, smell, taste, touch, or hearing. Our senses are how we experience the world around us, and the term "sensory" means that one or more of the 5 senses are engaged in an experience: through seeing, hearing, tasting, touching, or smelling. We would wager a bet that your children learn, and PLAY, best when some or all of their senses are involved.
In a nutshell, here are the 5 senses and how children may respond to them:
Sight: Newborns respond to the visual stimulations of contrasting images (think black & white), diverse textures, and patterns. Vibrant colors and contrasts can engage a child's attention physically and cognitively.
Smell: The sense of smell is one of the strongest senses—and it will continue to get stronger during a child's first 8 years of life. Certain smells help little ones feel comforted and promote the development of other senses. Some baby or toddler toys (like teething rings) have a pleasant smell such as vanilla or lavender.
Taste: Flavor is a language that takes years to develop (the littles might only know "yucky" or "yummy"). While there may not be many toys that stimulate the gustation sense, there's certainly plenty of room for active play in the kitchen that can widen a child's perception of taste.
Touch: A tactile toy is one that assists children in learning about the world through touch. While all materials are essentially tactile, the form and finish of children's toys can vary considerably—soft and fluffy, hard and bumpy, etc. Most toys have some sort of tactile (or touch) benefit to them.
Hearing: Sensory toys and objects that make a noise can help to support auditory engagement: bells, whistles, crinkling, percussion, etc. Place a musical instrument in your child's hands, and see what kind of magic will be born!
So what's a SENSORY TOY? It's one that is specially designed to stimulate one or more of those 5 senses. By definition, almost ANY toy can be classified as a sensory toy, because children play hardest, and learn best, by experiencing (not just observing) the world around them. They learn by DOING and experiencing life through their senses—and almost every toy or play activity involves some kind of interaction with at least one of the 5 senses—sight, smell, taste, touch, or hearing.
Bonus—a sensory toy may also be more appealing to kids on the spectrum because they can help the child remain calm and provide the sensory experience they desire. They might include elements such as bright contrasting colors, or different textures. They are meant to help children develop their senses in a safe and natural environment using play.
Alright, now what's the big idea about a SENSORY BIN? A sensory bin is a box, bin, or container that you fill with some kind of texture, then throw in a couple of toys, and voila—you have a sensory bin!
How are sensory bins good for your kiddos? These easy–to–create bins or boxes provide hands–on opportunities for children to stimulate some, or all, of their 5 senses—encouraging imaginative play through tactile stimulation. These 5 different tracks of information come into our childrens' brains, and together these senses create individual experiences.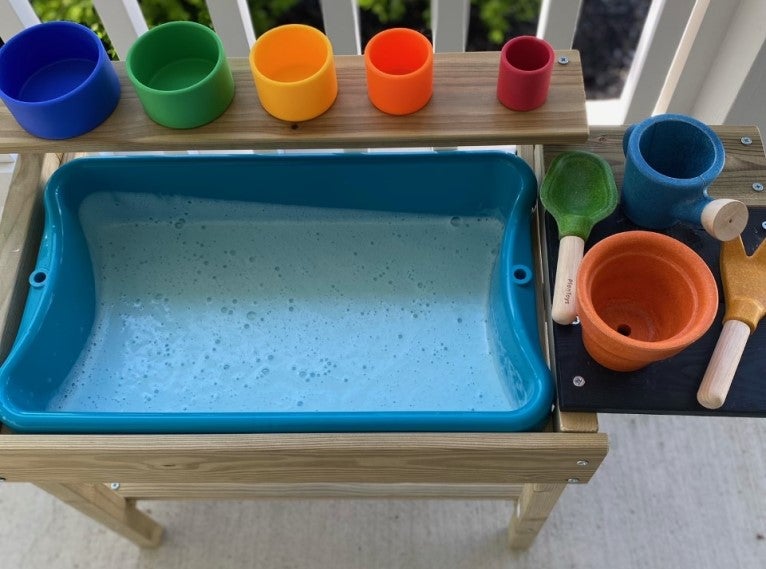 Sensory bins or tables provide children the opportunity to explore and learn through hands–on, tactile, open–ended play that engages their senses; and encourage and support ALL types of development: cognitive, social/emotional, physical, communicative, and sensory. When presented with a sensory bin, children use their senses and creativity to explore the materials offered on their own without the expectation of an end product. For kids who may be on the spectrum, they are also great for calming children and helping those who are over–stimulated FOCUS.
Got 5 or 10 minutes? Let's create a SENSORY BIN! Before you freak out and spend too much money creating a Pinterest-worthy fancy bin, these playful educational tools are easier to create than you might think. Let's go!
A few rules to get out of the way:
1. Be conscious of the age you are creating this bin for. If your child is still putting everything into the mouth (think 3 and under), be mindful of what you're placing in the bin—don't put enticing small toys that could become a choking hazard.
2. Some textures have a shelf life, and you may need to restock, recycle, or replenish your stash.
3. Never force your child's hand into a texture. Encourage imitation (from you) and proceed slowly. Or give them a shovel or tool to find the items if they're not ready to dig in mano–a–mano.
4. Have towels ready for wet textures.
Start with a bin: Easy–peasy. You can use any kind, or any size, of plastic storage bin. We bet that you might have one or two in your attic, basement, or storage closet–have a look! If your kids fall in love with this kind of sensory play, you can upgrade your plastic bin to our Wooden Picnic Table Sensory Play Station or Wooden Mud Kitchen Sensory Play Station , also great for outdoor sensory bins.
Now add a texture–friendly medium: No need to be fancy—you probably already have this on hand. Depending on what kind of sensory bin you want to create, here's a few ideas:
Rice, quinoa, or dry pasta (add some food coloring to liven it up!)
Shredded paper or Easter grass
Fall leaves or jelly beans for a seasonal bin
Coffee grounds, cereal, or oats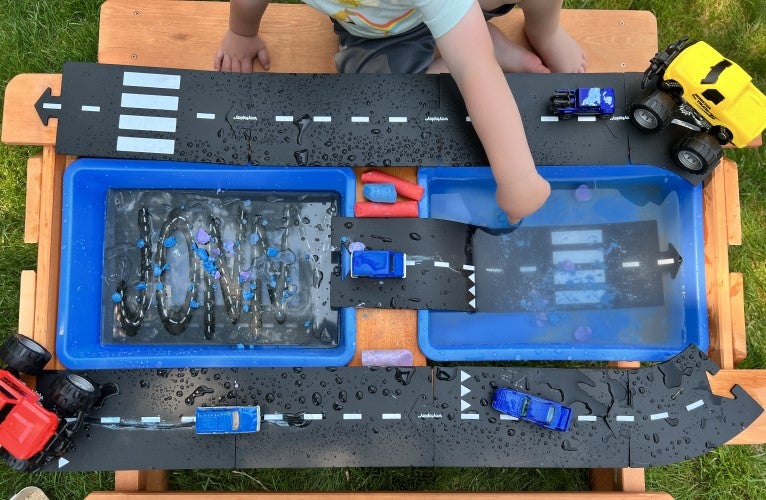 Got it! My bin is filled, now what do I add?
Small dolls or action figures: these guys are easy to bury and fun to find
Magnetic numbers or letters
Plastic bugs or rubber snakes
Paper and binder clips (use a magnet to pick them up)
Pine cones, rose petals, dried herbs, or cinnamon sticks
Plastic eggs: fill them with a surprise for an extra dose of fun!
You might want to provide a few tools for your sensory–seeking kiddos:
Paint brushes to dust off objects like a paleontologist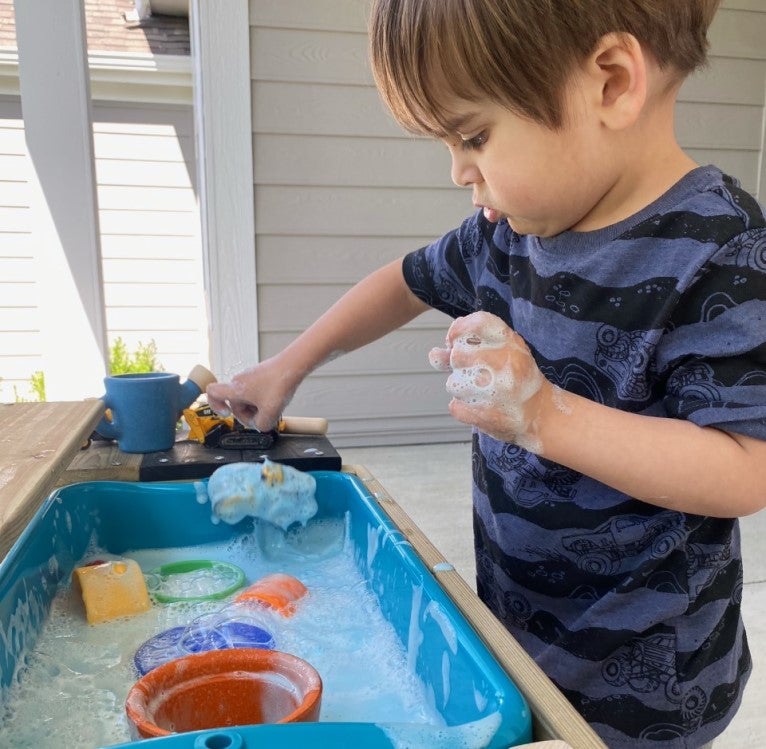 A few general "playing rules":
1. Let your child explore the bin without any input from you—this allows their creativity to really SHINE!
2. Have cups, scoops, bowls, shovels, serving spoons, dump trucks, and labels in the bin for scooping and dumping.
3. Play hide and seek with small toys. Have your child search for the item and try to determine what it is without looking at it. For an added challenge, have them search with closed eyes. Having kids try to determine what the object is without looking at it helps improve tactile discrimination and masters fine-motor skills like handwriting.
4. Don't leave out the feet—let your kids use those tootsies to explore the bin!
Ready to create your DIY sensory bin?
Here are 10 IDEAS FOR SENSORY BIN ACTIVITIES:
1.Jurassic Archaeology: Fill your bin with sand or beans, hide small dinosaur toys, and give your junior paleontologist a brush! How many different types of dinos can your explorer find?
2. What's Your Name?: Fill your bin with shaving cream or whipped cream (you can even do this on a tabletop), and have kids paint letters, names, numbers, or words. Hello phonics!
3. Ice Cream Soda Shop: Kids can pretend to scoop their own ice cream cotton balls into small bowls or ice cream cones, then add sprinkles (or sequins) to their tasty dessert creation.
4. Ice Age Sensory Bin: Fill your bin with ice cubes, then have kids scoop them up as fast as they can into a cup or bowl. You could even turn this into a friendly competition.
5. Insects & Bugs, Oh My!: Use black beans as pretend dirt, and bury pretend bugs and insects in the bin.
6. Fall Harvest Corn Sensory Bin: Fill with corn or beans, and use play trucks and tractors, and animal figurines, to simulate miniature farm fun.
7. Dish–Washing Sensory Fun: Turn regular cleaning chores into sensory fun: fill with warm water, dish soap, and "dirty" toys for a fun car or tool wash! (Bonus—make chore time fun!)
8. Construction Sensory Bin: Use black beans for a filler, then add building blocks to construct with, and plastic construction vehicles or tools.
9. Alphabet Star Search: Use any filler, cut out star shapes and write a different letter on each, then use tongs to spell out words. Fun and learning combined?
10. Rainbow Sensory Bin: Mix 5 cups of fine sand, 3 tsp. tempera powder paint or food coloring, 1 1/2 cups corn starch, 1/2 tsp. dish soap, and 1 cup of water to create rainbow sand. Kids will love molding their own creations, or hiding their toys, in their rainbow sand.
Share your Sensory Bin ideas @hearthsong.