46-Inch Bright Mega FunShine Adjustable Round Bungee Swing
See more by Hearthsong
Sale price
$109.99
Regular price
$109.99
Unit price
per
See More Details
Key Features

Award-winning, super-sized swing in an updated bright color is as comfy as a hammock
Quick-dry swing mat is surrounded by stretchy bungee cords that add stretch and bounce for an out-of-this-world ride (holds 2 kids and/or adults up to 300 lbs.)
Durable 46" diam. steel frame is foam-padded for safety and comfort, and covered with weather-resistant canvas that will keep its bright color
Adjustable seat angle easily switches from sitting to laying position, and also makes it easier for little ones to hop on
Sturdy nylon ropes adjust from 40"L-68"L and are finished with O-rings for easy hanging
Hassle-free installation: hang at 1 or 2 points from a tree (Hanging Straps sold separately, 731926), Sky Dome Arched Stand (730793, sold separately), or sturdy swing set
Transform into a spinning swing with our Swivel Spinner Hardware (732960, sold separately)
Check out our original 32" FunShine Swing (730584) for kids who love to swing and bounce solo
Great for ages 5 and up
Description

This super-sized, super-FUN Mega FunShine® Swing in a bright eye-popping neon color brings a dose of cheer to your backyard! Easily seating 2 kids (or a child and an adult, up to 300 lbs.), the 46" diam. sturdy steel frame is wrapped in foam for extra comfort and safety. A soft nylon seat is surrounded by colorful, stretchy bungee cords and durable canvas for the most comfortable ride in the backyard!

Bonus feature—you can adjust the seat angle to provide a unique slant for each rider. Hanging ropes are adjustable up to 68"L to accommodate for different hanging heights.

Adult assembly required; hanging hardware sold separately.
Specifications

Size:
Swing: 46" diam.
Hanging ropes: Adjustable from 40"L-68"L

Weight Limit:
300 lbs.

Assembly:
Adult assembly and installation required
You will need: 2 Tree-Hanging Straps (if hanging from tree or swing set)
Shipping & Returns

Shipping
We ship most in-stock merchandise within 24 hours of receiving your order. Standard ground delivery usually arrives in 5-7 business days.

Easy 30-Day Returns
If, for any reason, you are not 100% satisfied with one of our products, you may return it for a refund within 30 days of the purchase date. Please note, some items have additional return restrictions. For complete information on our returns policy and procedure, visit our Easy 30-Day Return Policy Page for full details.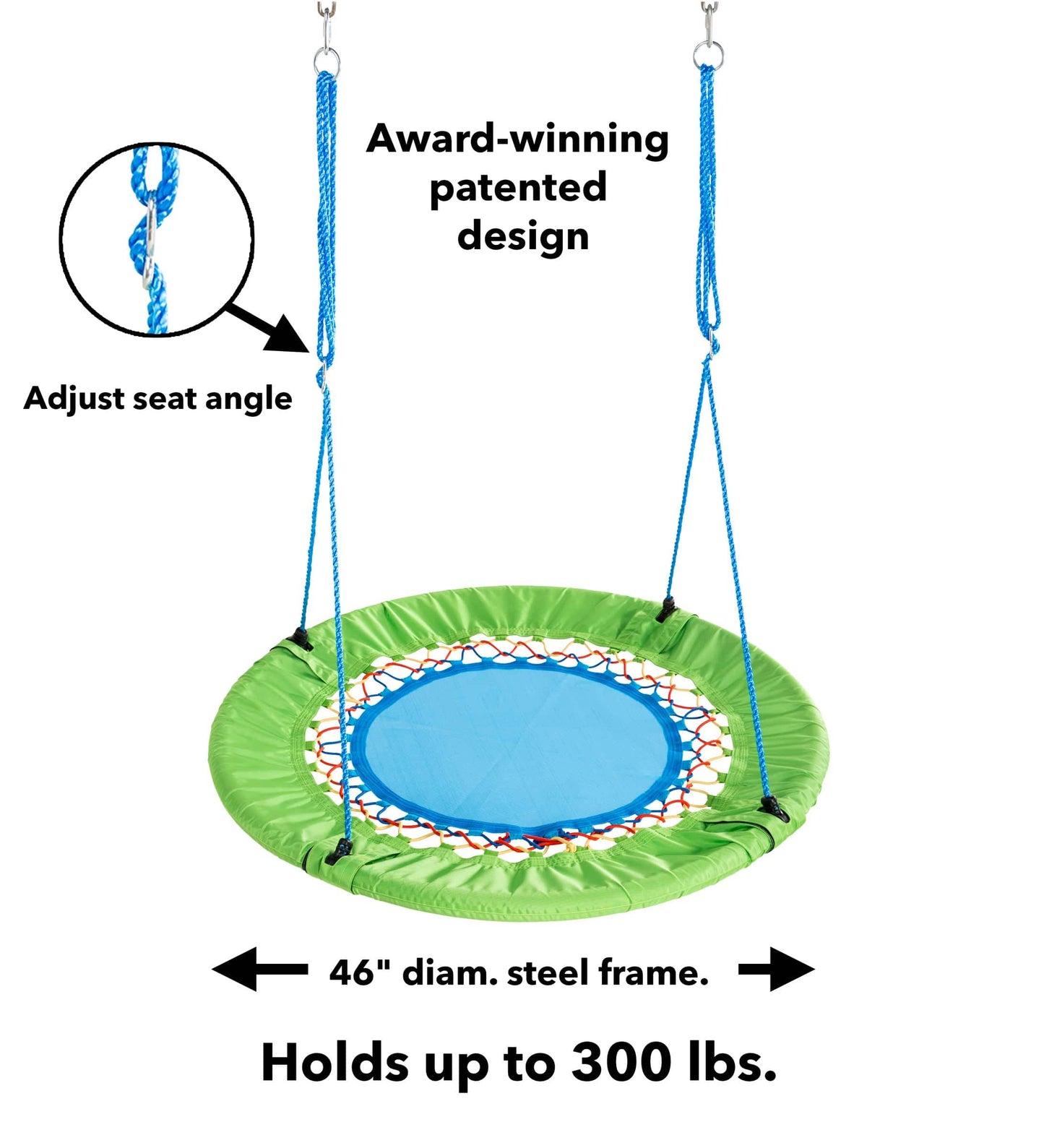 Sale price

$199.99

Regular price

$199.99

Unit price

per

Sale price

$139.99

Regular price

$139.99

Unit price

per

Sale price

$119.99

Regular price

$119.99

Unit price

per

Sale price

$129.99

Regular price

$129.99

Unit price

per

Sale price

$199.99

Regular price

$199.99

Unit price

per

Sale price

$109.99

Regular price

$109.99

Unit price

per

Sale price

$149.00

Regular price

$149.00

Unit price

per

Sale price

$199.99

Regular price

$199.99

Unit price

per

Sale price

$64.99

Regular price

$129.99

Unit price

per

Sale price

$64.49

Regular price

$129.99

Unit price

per

Sale price

$423.99

Regular price

$423.99

Unit price

per

Sale price

$379.99

Regular price

$379.99

Unit price

per