Key Features

Each truck is a solvable puzzle for your little one
Mix, match, and make up your own customizable trucks
No surface paint to chip off, colors are molded in
Includes 2 customizable trucks and 2 educational flashcards
Great for ages 3 & up. 
Description

A Fire Truck and a Recycling Truck, together in one box. Each truck is a puzzle that the child assembles to create a working vehicle. The parts are designed with a little "wiggle room" to make them easy to put together, and can be mixed and matched to create custom trucks.

Each truck comes with a flash card that shows the parts and how they go together. It's a simple puzzle that creates a sense of accomplishment and encourages creativity. The trucks are made with 30% maple fiber (sawdust from US furniture factories). The packaging is made with recycled cardboard and paperboard, and is packed with minimal wasted space.
Specifications

Materials:
Made with 30% upcycled maple fiber

Safety:
No BPA and no Phthalates
Washable and paint-free Manufacturing:
Everything 100% Made in the USA, in Danbury, CT. by Luke Barber.  
Shipping & Returns

Shipping
We ship most in-stock merchandise within 24 hours of receiving your order. Standard ground delivery usually arrives in 5-7 business days.

Easy 30-Day Returns
If, for any reason, you are not 100% satisfied with one of our products, you may return it for a refund within 30 days of the purchase date. Please note, some items have additional return restrictions. For complete information on our returns policy and procedure, visit our Easy 30-Day Return Policy Page for full details.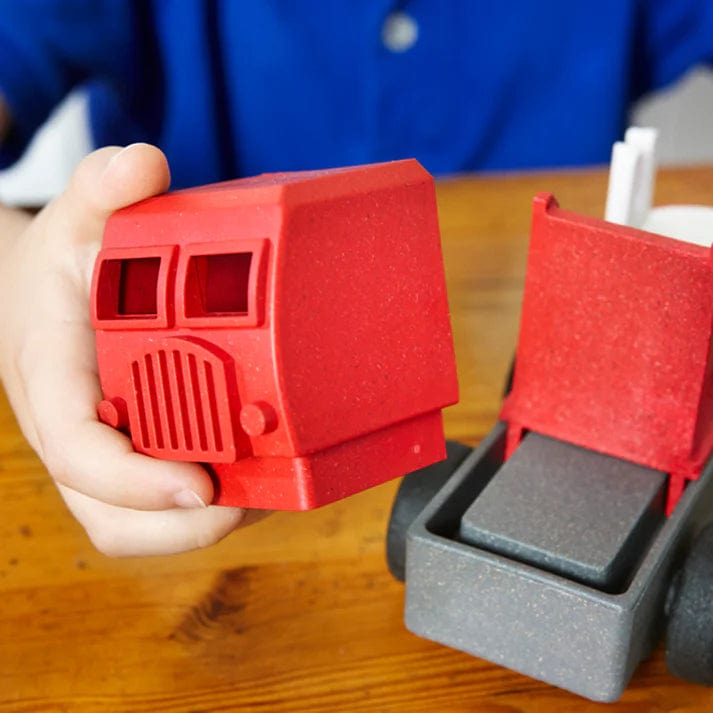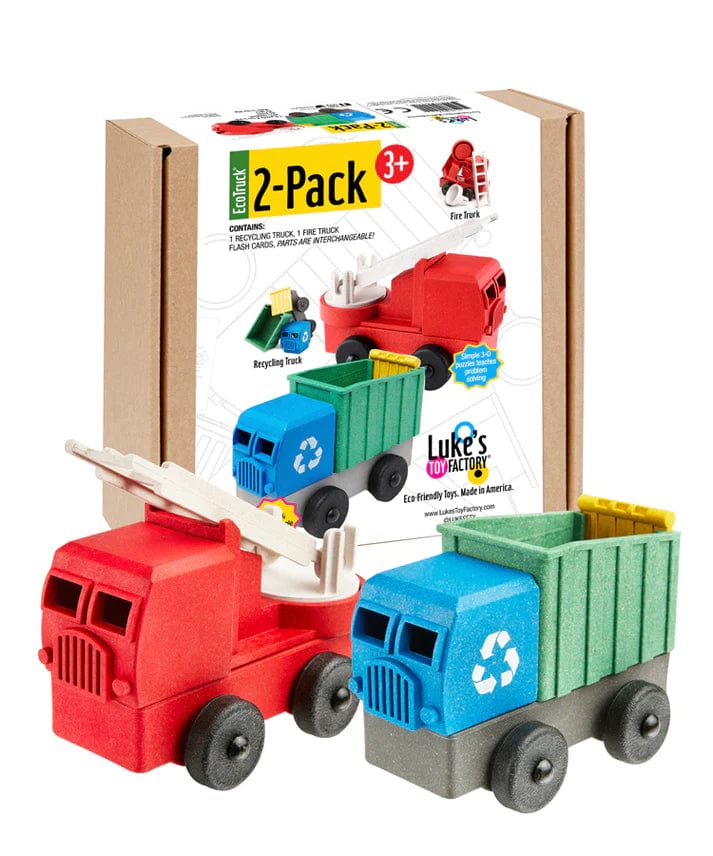 Sale price

$198.00

Regular price

Unit price

per

Sale price

$99.99

Regular price

Unit price

per

Sale price

$129.99

Regular price

$129.99

Unit price

per

Sale price

$44.98

Regular price

$44.98

Unit price

per

Sale price

$129.99

Regular price

$129.99

Unit price

per

Sale price

$19.99

Regular price

$19.99

Unit price

per

Sale price

$17.99

Regular price

$17.99

Unit price

per

Sale price

$55.99

Regular price

$69.99

Unit price

per

Sale price

$16.99

Regular price

$24.99

Unit price

per

Sale price

$179.99

Regular price

$179.99

Unit price

per

Sale price

$24.99

Regular price

$34.99

Unit price

per

Sale price

$27.97

Regular price

$34.99

Unit price

per
Frequently Asked Questions
Who is Luke?

is our toy designer and one of four co-founders of Luke's Toy Factory. We were founded by two father-son pairs: Luke and his father, Jim; and Evan and his father Mitch. Luke and Jim take care of the toy design, production, and day-to-day operations. Evan and Mitch are responsible for the packaging, marketing, website and social Luke media
Why did you start Luke's Toy Factory?

We saw a need for toy companies to get back to basics. By 2010, 88% of US toys were made in China. We felt that everyone involved in making the toys should be paid a living wage and work in an ethical environment. We know toys should be safe. Product recalls for lead paint, small part choking hazards and dangerous magnets, to name only a few, made it clear that toy companies were putting profits over safety. The toy industry needs to take the lead on using sustainable and recycled materials whenever possible. We've only got one planet, and it needs our help to protect it.
What are these toys made out of?

Our toys are made out of an innovative material called Wood Plastic Composite (WPC). The material combines sawdust or other organic material like flax, rice hulls or coconut shells, with safe, certified plastic. The result is a product which is more substantial, durable and wood-like than 100% plastic toys. In fact, WPC is so durable that it is now commonly used in backyard decks and outdoor construction, with the look and feel of real lumber.
How are your toys colored and Do you use paint?

No we NEVER use paint. We derive our color through the use of strictly tested and certified colorants that are molded in during the production process. The colorant is a very small part of the product, usually about 2% by volume. We try to use as little colorant as possible. Our colors are NOT sprayed or painted on to the material, so they will never flake, peel or smudge.
Are these toys safe?

Our toys are tested by a U.S. based independent testing lab. They meet or exceed the Consumer Product Safety Commission (CPSC) standards and the American Society for Testing and Materials requirements (ASTM-F963) for the US and Canada. They also have passed the rigorous EN-71 testing for the EU markets, as well as Japan, Australia and New Zealand. We carefully monitor production during injection molding and each toy is examined one by one as it is made. In addition to designing the toys, Luke is in charge of assembling the wheels to the axles and checking the final product. At Luke's Toy Factory, we are very careful to make the best product we can, because safety is one of the reasons we started the company in the first place.