Sale price
$29.99
Regular price
Unit price
per
HURRY! ONLY 20 ITEMS LEFT IN STOCK
See More Details
Key Features

Open the adult hippo's magnetic shell to find the skeleton, a 4-piece bone puzzle.
The baby hippo's puzzle consists of 5 pieces including the diaper.
HALF BABIES come with a rocking cradle.
Adult hippo comes with a diorama backdrop.
Collect them all and build a scenic animal world!
HalfToys received the Parents' Choice Award in 2020.

Great

 for ages 3 to 103!



Description

Introducing the Hippo Duo Bundle - a delightful combination of strength and adorableness! Immerse yourself in the wonders of the animal kingdom with our captivating pair: the majestic hippo and its lovable counterpart, the baby hippo.

First, meet the formidable hippo. With its sturdy build and intricate details, this HALF ANIMAL figure beautifully captures the essence of these magnificent creatures. From its powerful jaw to its robust body, the hippo exudes both strength and grace, making it a standout addition to any collection or display.

Now, prepare to be charmed by the baby hippo, a miniature version of its majestic parent. With its cute and playful appearance, this half-baby figure captures all the irresistible cuteness and innocence of a young hippopotamus. This HALF BABY comes complete with a diaper (part of the puzzle) and a rocking crib. Its small size and adorable features make it a perfect collectible or a heartwarming gift for animal lovers of all ages.

Both the hippo and baby hippo are meticulously crafted with attention to detail, ensuring lifelike representations. These figures are not only visually captivating but also built to withstand hours of imaginative play.

Whether you're a wildlife enthusiast, a collector, or seeking a special gift, the hippo duo bundle is a must-have. Experience the magic of these remarkable creatures and bring the spirit of the animal kingdom into your home.

Indulge in the enchantment of hippos and bring home the hippo duo bundle today. Let these captivating figures inspire your imagination and transport you to the untamed beauty of the animal world.
Specifications

Size:
Hippo Dimensions: 3.5 x 1.7 x 2.2 in
Baby Hippo Dimensions: 2.6 x 1.6 x 2.0 in
Cradle: 3.1 x 2.4 x 2.4 in

Manufacturing:
Meticulously crafted with the highest quality materials, ensuring durability and authenticity

Materials:
Non-toxic ABS material.

Safety:
comply with latest local safety standards and regulation such as EN-71, F963 and etc. The magnets are carefully embedded into the shell with no possibilities to be reached by users.
Shipping & Returns

Shipping
We ship most in-stock merchandise within 24 hours of receiving your order. Standard ground delivery usually arrives in 5-7 business days.

Easy 30-Day Returns
If, for any reason, you are not 100% satisfied with one of our products, you may return it for a refund within 30 days of the purchase date. Please note, some items have additional return restrictions. For complete information on our returns policy and procedure, visit our Easy 30-Day Return Policy Page for full details.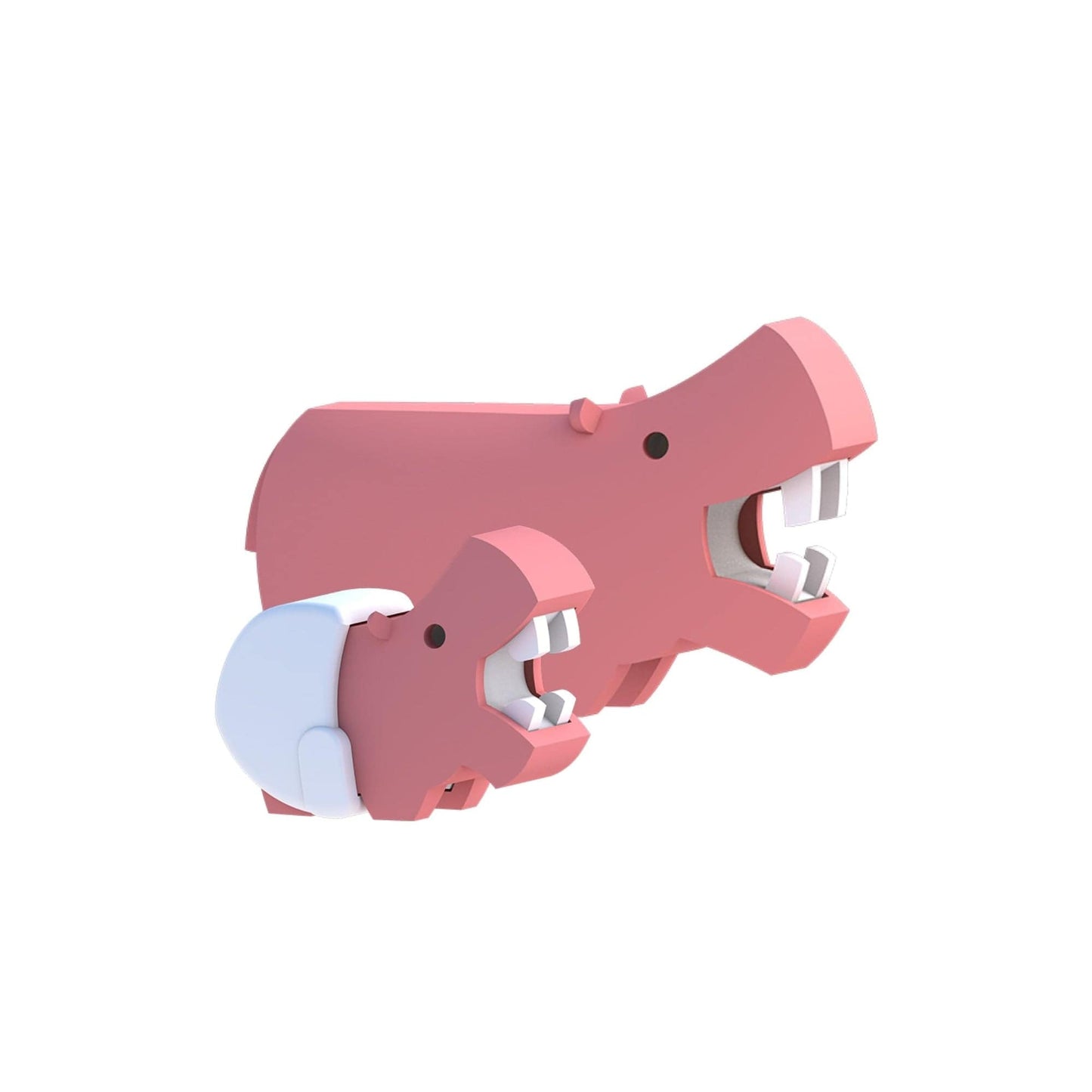 Sale price

$29.99

Regular price

$29.99

Unit price

per

Sale price

$149.99

Regular price

$149.99

Unit price

per

Sale price

$139.99

Regular price

$139.99

Unit price

per

Sale price

$69.99

Regular price

$69.99

Unit price

per

Sale price

$159.00

Regular price

$159.00

Unit price

per

Sale price

$39.99

Regular price

$39.99

Unit price

per

Sale price

$199.99

Regular price

$199.99

Unit price

per

Sale price

$69.99

Regular price

$69.99

Unit price

per

Sale price

$579.99

Regular price

$579.99

Unit price

per

Sale price

$129.99

Regular price

$129.99

Unit price

per

Sale price

$17.99

Regular price

$17.99

Unit price

per

Sale price

$199.99

Regular price

$199.99

Unit price

per
Frequently Asked Questions
What are Halftoys product made of?

our love ones deserve the best and safest. Halftoys products are made with non-toxic ABS plastic. In addition, our products are PVC-free, BPA-free, and phthalate-free.
How durable are your products?

Halftoys are more than just desk buddies; they're designed to be played with. Go ahead, take 'em on an adventure and roughhouse with them! No worries, Halftoys are easily cleaned with soap and water and can last years of fun.
What inspired the creation of Halftoys?

As a long-time lover of professional, hand-painted figurines, but new parent, our designer wanted to offer his child only the best of toys. So he embarked on a mission to create a premium quality toy that his baby would both love and learn from.
What's next?

Halftoys family is expanding with other animals, people, fantasy creatures. There will be more HALF details in future versions, such as guts and all, Half Mecha, cyborg-aesthetic, and even some actual moving joints!