Sale price
$69.99
Regular price
Unit price
per
HURRY! ONLY 19 ITEMS LEFT IN STOCK
See More Details
Key Features

Enjoy three of Celestial Buddies' best-selling plushes in one bundle
Conforms to all EU and US Consumer Product Safety Commission Toy Regulations
Handmade in China
The perfect gift for anyone who loves space! Expand your kid's interest in space, astronomy & science
Appropriate for ages 3 and up
Description

This fun bundle includes the Earth, Moon, and your very own AstroBuddy!

Earth is good natured and a true blue friend! Earth is our home and currently the only planet in the Universe where life is known to exist. On March 2, 2019, I was placed on board the SpaceX Crew Dragon and launched to the international Space Station as a "super hi-tech zero gravity indicator." I was supposed to go back home the next week, but the astronauts loved me so much that I was invited to stay on board! Some people think that I am The Most Famous Toy in the Universe!

Moon is your loyal and constant companion! Moon is the Earth's only natural satellite and loyally follows the Earth as they both orbit the Sun.

AstroBuddy is the little plush tot is ready to explore the wonders of space with your little ones! AstroBuddy has a removable zippered backpack that can store all the necessary essentials to make your imaginary spacewalk a success.
Specifications

Size:
AstroBuddy: 12"H
Earth: 6"H
Moon: 5"H

Materials:
Brand new polyester fiber

Care:
Moon and Earth: Spot clean with mild detergent and cold water, but toy may be machine washed in cold water, gentle cycle, if needed. Best to dry at low or no heat in a pillowcase or similar to reduce risk of scratching "eyes. "
AstroBuddy: Spot clean with mild detergent & cold water; machine wash cold water, gentle cycle.
Shipping & Returns

Shipping
We ship most in-stock merchandise within 24 hours of receiving your order. Standard ground delivery usually arrives in 5-7 business days.

Easy 30-Day Returns
If, for any reason, you are not 100% satisfied with one of our products, you may return it for a refund within 30 days of the purchase date. Please note, some items have additional return restrictions. For complete information on our returns policy and procedure, visit our Easy 30-Day Return Policy Page for full details.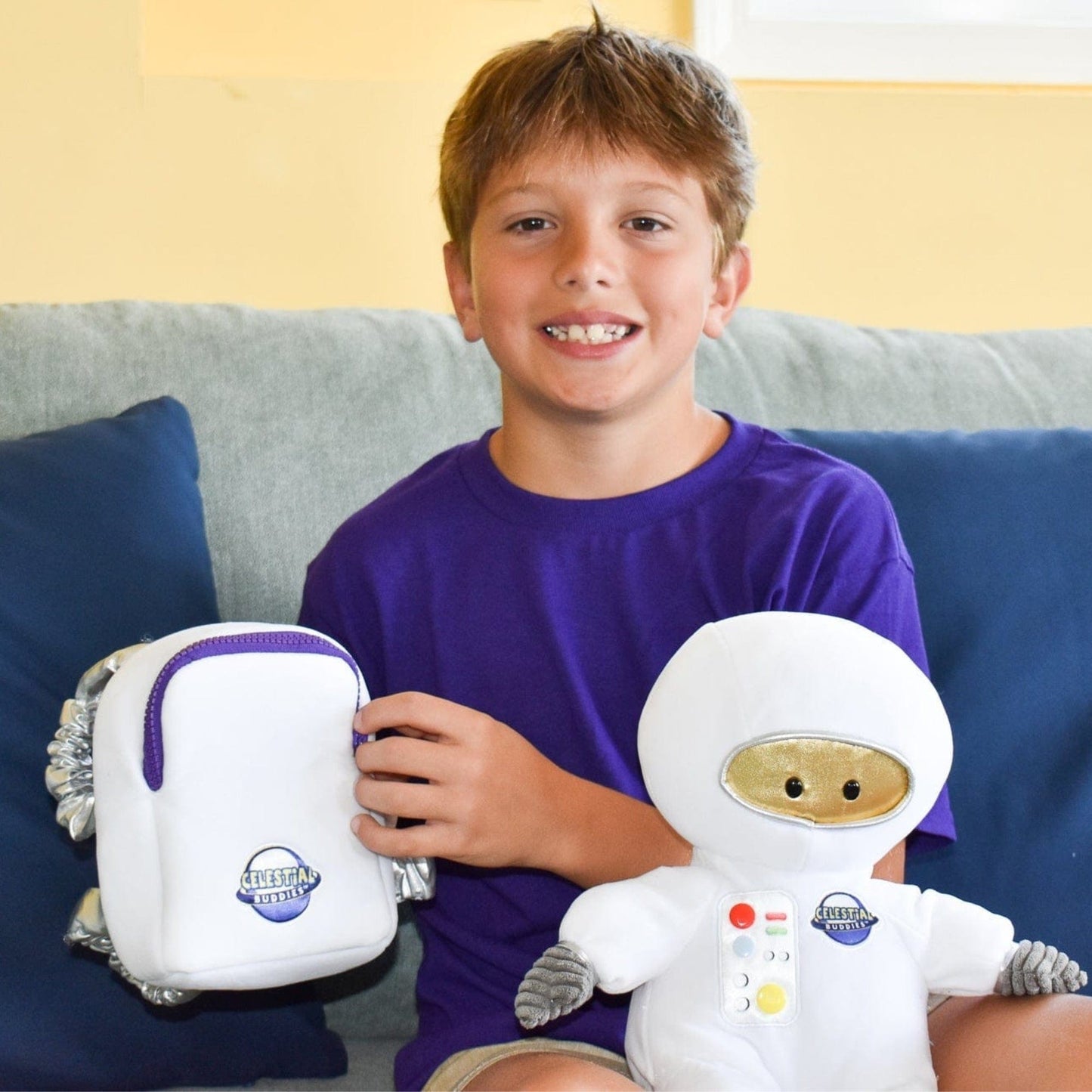 Sale price

$129.99

Regular price

$129.99

Unit price

per

Regular price

From $78.99

Sale price

From $78.99

Regular price

Unit price

per

Sale price

$159.99

Regular price

$159.99

Unit price

per

Sale price

$599.99

Regular price

$599.99

Unit price

per

Regular price

From $78.99

Sale price

From $78.99

Regular price

Unit price

per

Sale price

$39.99

Regular price

$49.99

Unit price

per

Sale price

$45.00

Regular price

Unit price

per

Sale price

$94.99

Regular price

Unit price

per

Sale price

$249.99

Regular price

Unit price

per

Sale price

$87.99

Regular price

Unit price

per

Sale price

$69.99

Regular price

Unit price

per

Sale price

$44.99

Regular price

Unit price

per