Sale price
$49.99
Regular price
Unit price
per
HURRY! ONLY 27 ITEMS LEFT IN STOCK
See More Details
Key Features

The perfect baby shower gift set for the expectant mom in your life. Cute, stylish, and functional newborn baby accessories for the modern family.
Includes muslin blankie and bib, wooden baby brush, crochet rattle, keepsake wood newborn photo announcement card, and silicone/wood teether in a gift box.
Blankie and bib are made from soft, absorbent, and breathable 100% cotton material that is gentle on your baby's skin. Bib is designed with a bandana shape that covers a larger area of your baby's chest and provides extra protection against dribbles and spills.
The brush's soft and fine bristles are perfect for your baby's daily scalp massages and help prevent cradle cap buildup.
Machine-washable, crochet, animal-faced rattle is made of a high-quality cotton yarn.
Keepsake newborn "Hello World" wood card announces your baby's entrance into the world.
Great for ages newborn -18 months old
Description

The Newborn Gift Box from Binnie is the perfect baby shower or newborn gift for the expectant mom in your life and includes a muslin blankie and bib, a wooden baby brush, a crochet rattle, a keepsake wood newborn photo announcement card, and a silicone/wood teether in a gift box.

The Silicone Beaded Teether features a stylish and modern design that combines silicone beads with natural wood rings. The wood rings are made from smooth, natural wood that is gentle on your baby's gums and adds a touch of elegance to the teether.

Our soft 100% cotton blankie and bib are gentle on your baby's skin, machine washable and dryer safe. The bandana bib is the perfect solution for keeping your little one clean and dry during mealtime or playtime. Featuring snaps at the back, the bib ensures a secure and comfortable fit.

Announce Baby's entrance into the world by photographing your beautiful little one with our "Hello World" newborn photo announcement card. This keepsake helps you capture this once-in-a-lifetime moment in a charming and unique way.

A handmade, animal-faced rattle toy with teething handle is the perfect gift for any newborn. Shake for a gentle sound that is stimulating and will bring a smile to any baby. Handmade with love, our rattle is crafted with high-quality cotton yarn, making it soft and gentle for your baby's delicate skin.

The crochet animal with wooden ring rattle toy features a unique design that is easy for your baby to grip and play with, helping to develop their fine motor skills.
Specifications

Materials:
Bib and blankie are made of 100% cotton
Teether is crafted of food-grade silicone that is BPA free

Care:
Teether is easy to clean and maintain. Wash in warm water and mild soap and allow it to air dry.
Crochet rattle toy is easy to clean and can be hand washed or machine washed on a gentle cycle.

Origin:
Made in the U.S.A.
Shipping & Returns

Shipping
We ship most in-stock merchandise within 24 hours of receiving your order. Standard ground delivery usually arrives in 5-7 business days.

Easy 30-Day Returns
If, for any reason, you are not 100% satisfied with one of our products, you may return it for a refund within 30 days of the purchase date. Please note, some items have additional return restrictions. For complete information on our returns policy and procedure, visit our Easy 30-Day Return Policy Page for full details.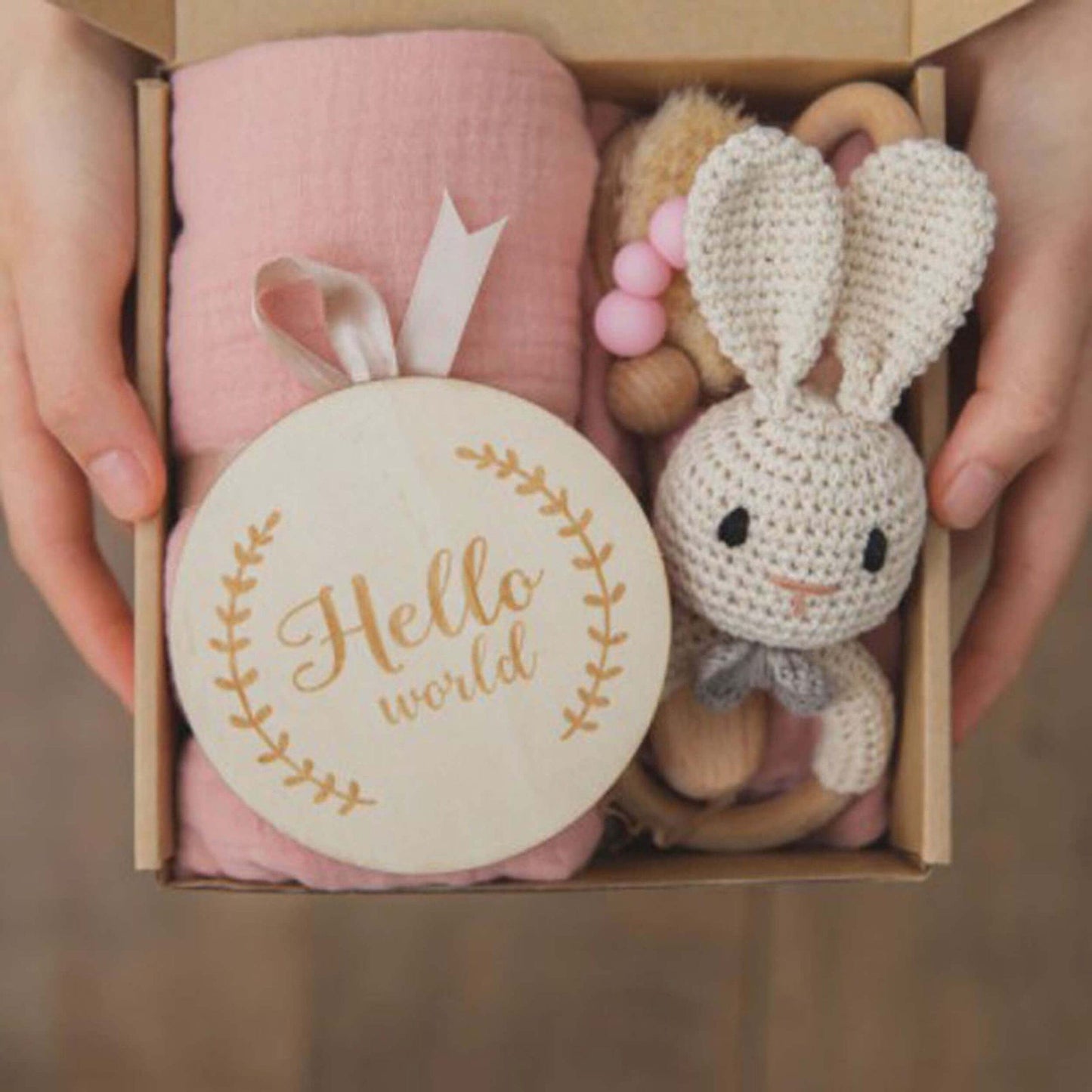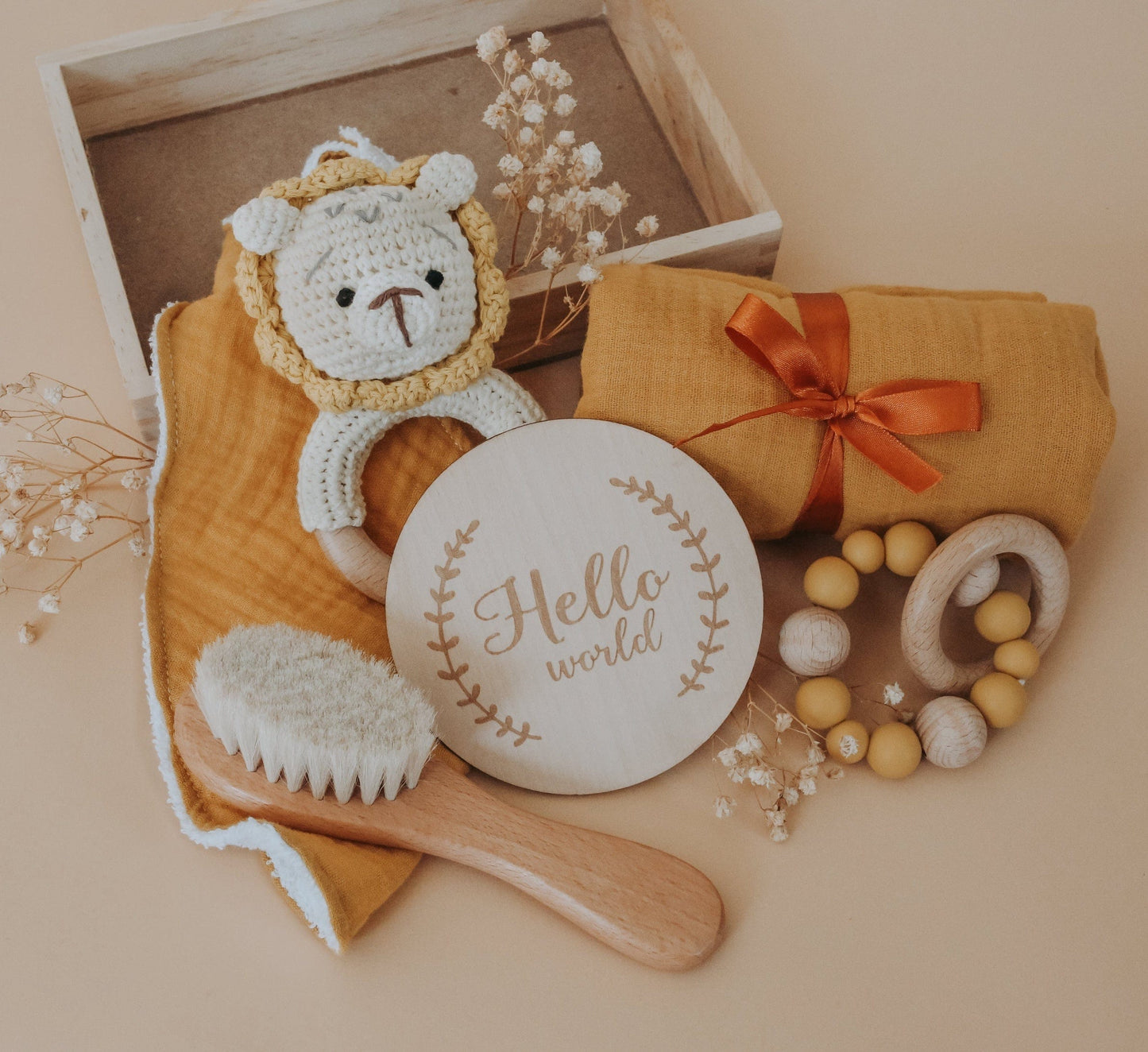 Sale price

$39.99

Regular price

$39.99

Unit price

per

Sale price

$24.99

Regular price

$49.99

Unit price

per

Sale price

$99.99

Regular price

$99.99

Unit price

per

Sale price

$39.99

Regular price

$79.99

Unit price

per

Sale price

$69.99

Regular price

$69.99

Unit price

per

Sale price

$79.99

Regular price

$79.99

Unit price

per

Sale price

$24.99

Regular price

$24.99

Unit price

per

Sale price

$29.99

Regular price

$29.99

Unit price

per

Sale price

$24.99

Regular price

$24.99

Unit price

per

Sale price

$288.00

Regular price

Unit price

per

Sale price

$89.99

Regular price

Unit price

per

Sale price

$32.00

Regular price

Unit price

per