Key Features

Choo choo! Your little ones will love this portable, two-sided play set
Includes 16 accessories that accompany your new train play set, including passengers, luggage, and a hot dog cart!
This toy is eco-friendly with FSC-certified bamboo construction and includes all non-toxic paints
A gorgeous gift for the train enthusiast in your life

Waldorf toys prioritize imagination and creativity to encourage learning, which is exactly what this toy does!

Great for ages 3 and up
Description

All aboard! Part of Jack Rabbit's new suitcase series that encourages portable play, our train station suitcase opens on both sides to reveal a world of fun. This 16-piece set will let your child's imagination run wild with train station stories. Includes travelers, crossing signal, extra track, luggage, hot dog cart and more!
Specifications

Size:
8.0"L x 4.5"W x 5.5"H

Weight:
2.0 lbs in box.

Materials:
FSC-certified bamboo construction, all non-toxic paints
Shipping & Returns

Shipping
We ship most in-stock merchandise within 24 hours of receiving your order. Standard ground delivery usually arrives in 5-7 business days.

Easy 30-Day Returns
If, for any reason, you are not 100% satisfied with one of our products, you may return it for a refund within 30 days of the purchase date. Please note, some items have additional return restrictions. For complete information on our returns policy and procedure, visit our Easy 30-Day Return Policy Page for full details.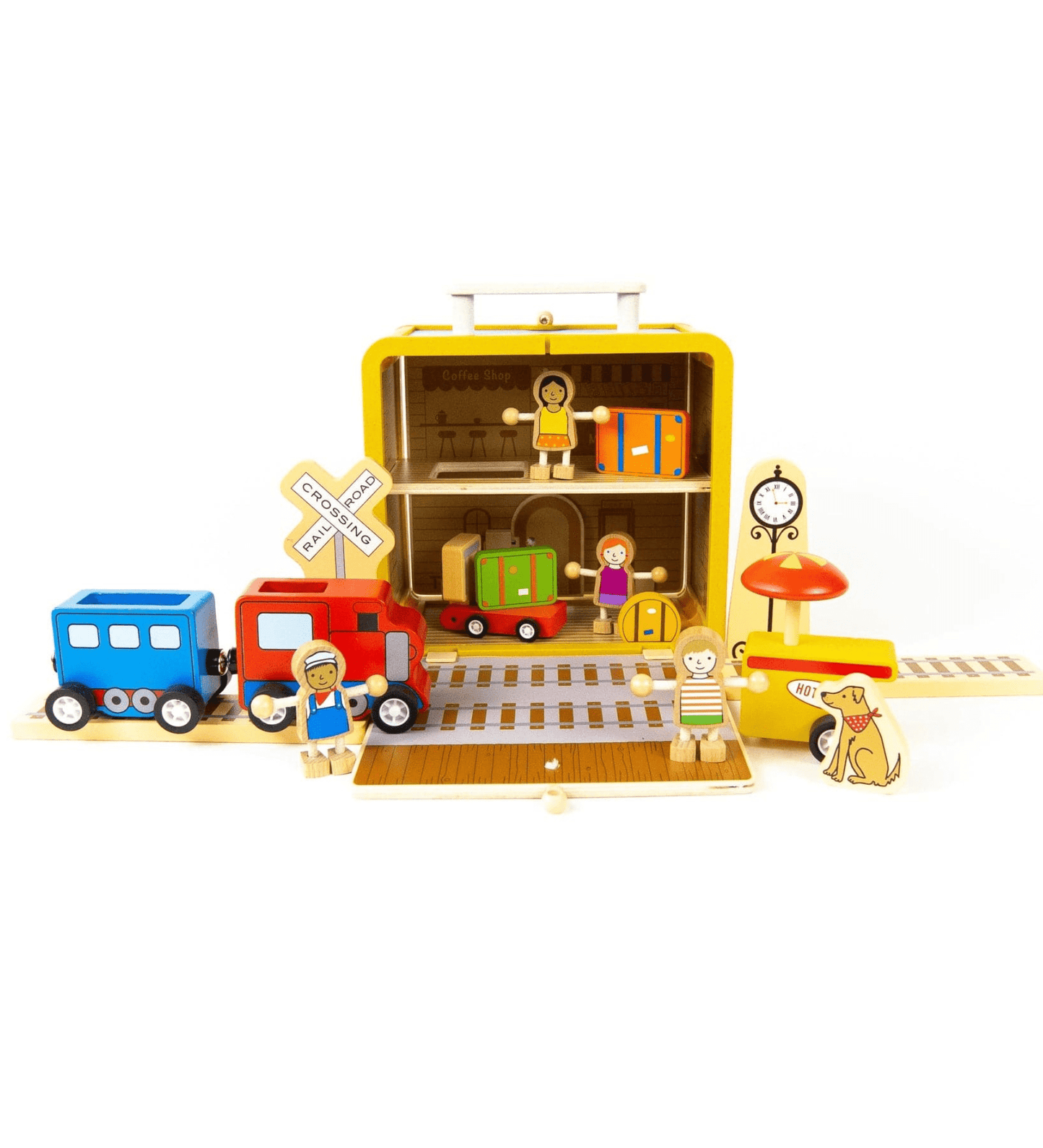 Sale price

$27.98

Regular price

$27.98

Unit price

per

Sale price

$59.99

Regular price

$59.99

Unit price

per

Sale price

$69.99

Regular price

$69.99

Unit price

per

Sale price

$89.97

Regular price

$89.97

Unit price

per

Sale price

$35.99

Regular price

$39.99

Unit price

per

Sale price

$29.99

Regular price

$29.99

Unit price

per

Sale price

$24.99

Regular price

$24.99

Unit price

per

Sale price

$22.49

Regular price

$44.99

Unit price

per

Sale price

$259.99

Regular price

$259.99

Unit price

per

Sale price

$209.99

Regular price

$209.99

Unit price

per

Sale price

$199.99

Regular price

$199.99

Unit price

per

Sale price

$319.99

Regular price

$319.99

Unit price

per