Harry Potter™ Hogwarts™ Express Model Kit
See more by UGears
Sale price
$94.99
Regular price
Unit price
per
See More Details
Key Features

The model is rated "Advanced" difficulty level with an estimated assembly time of 7 hours. The locomotive can be assembled in about 3 hours, giving you a head start on imaginative play!
This DIY wooden model kit consists of 504 parts that are laser pre-cut into wooden boards. To assemble, simply remove the pieces from the boards and snap them together following the detailed, illustrated instructions available in 11 languages. One of the great things about our models is that no glue or special tools are required—everything you need for assembly is included in the box.
Choose to leave your completed model in its attractive, natural wood state, paint it in the livery colors of the HogwartsTM Express as seen in the Harry Potter movies, or give it your own original finish. Paint not included.
This beautiful train model will appeal to all witches, wizards, and muggles everywhere, train enthusiasts, model hobbyists, collectors of model trains, and anyone who loves to work and build things with their hands. The HogwartsTM Express model train kit is a great gift idea for parents of children who love the Harry Potter series of books and movies, or parents looking for a fun craft project to build with their children.

 Montessori toys promote independent exploration and skill-building, which is exactly what this toy does!

Please note: Returns are not accepted unless in original, shrink-wrapped condition.
Great for ages 14 and up

Description

Enter the Wizarding World and join Harry, Hermione and Ron on an exciting journey aboard the HogwartsTM Express with this special working model train by Ugears. Leaving from King's Cross Station in London with destination Hogsmeade Station near Hogwarts Castle, this beautiful wooden model train has a spring-powered locomotive, a coal tender, and a passenger carriage in which three figurines of the young wizarding heroes are seen heading off to school.

Wind the model with the special key, twist the smokestack Start/Stop switch, then watch the mesmerizing motion of the locomotive's gears, wheels and connecting rods as it chugs ahead. The UGears HogwartsTM Express can travel 4 meters (with tender and carriage) or 6 meters (locomotive only) on any smooth, flat surface. This beautiful 3D wooden model train also comes with a section of track and Platform 9 ¾ buffer stop for an elegant static display.

The handsome locomotive can be run on its own or coupled with two cars—a coal tender and a passenger carriage. The tender has an empty coal compartment in which you can store the train's wind-up key or other small objects. The passenger carriage has three compartments, three doors that open, and a removable roof, allowing you to place the figurines of Harry Potter, Hermione Granger, and Ronald Weasley on special mounts that move side-to-side when the train is in motion. You can also place these character figurines next to the train for static display, as though the youngsters were waiting to board the magical HogwartsTMExpress for another term at the Hogwarts School of Witchcraft and Wizardry.

The DIY model train recreates the look of the "GWR 5972 Olton Hall" locomotive used in the Harry Potter movie series, based on a magical universe, created by J. K. Rowling.
Specifications

Dimensions
Model size: 36 x 4.9 x 39 in. 
Package size: 14.9 x 6.7 x 2 in.

Weight
2.69 lbs 

Number of Parts
504

Assembly Time
7 hours

Level
Hard

Manufacturer
UGears

WIZARDING WORLD characters, names, and related indicia are © & ™ Warner Bros.Entertainment Inc. WB SHIELD: © & ™ WBEI. Publishing Rights © JKR. (s22)
Shipping & Returns

Shipping
We ship most in-stock merchandise within 24 hours of receiving your order. Standard ground delivery usually arrives in 5-7 business days.

Easy 30-Day Returns
If, for any reason, you are not 100% satisfied with one of our products, you may return it for a refund within 30 days of the purchase date. Please note, some items have additional return restrictions. For complete information on our returns policy and procedure, visit our Easy 30-Day Return Policy Page for full details.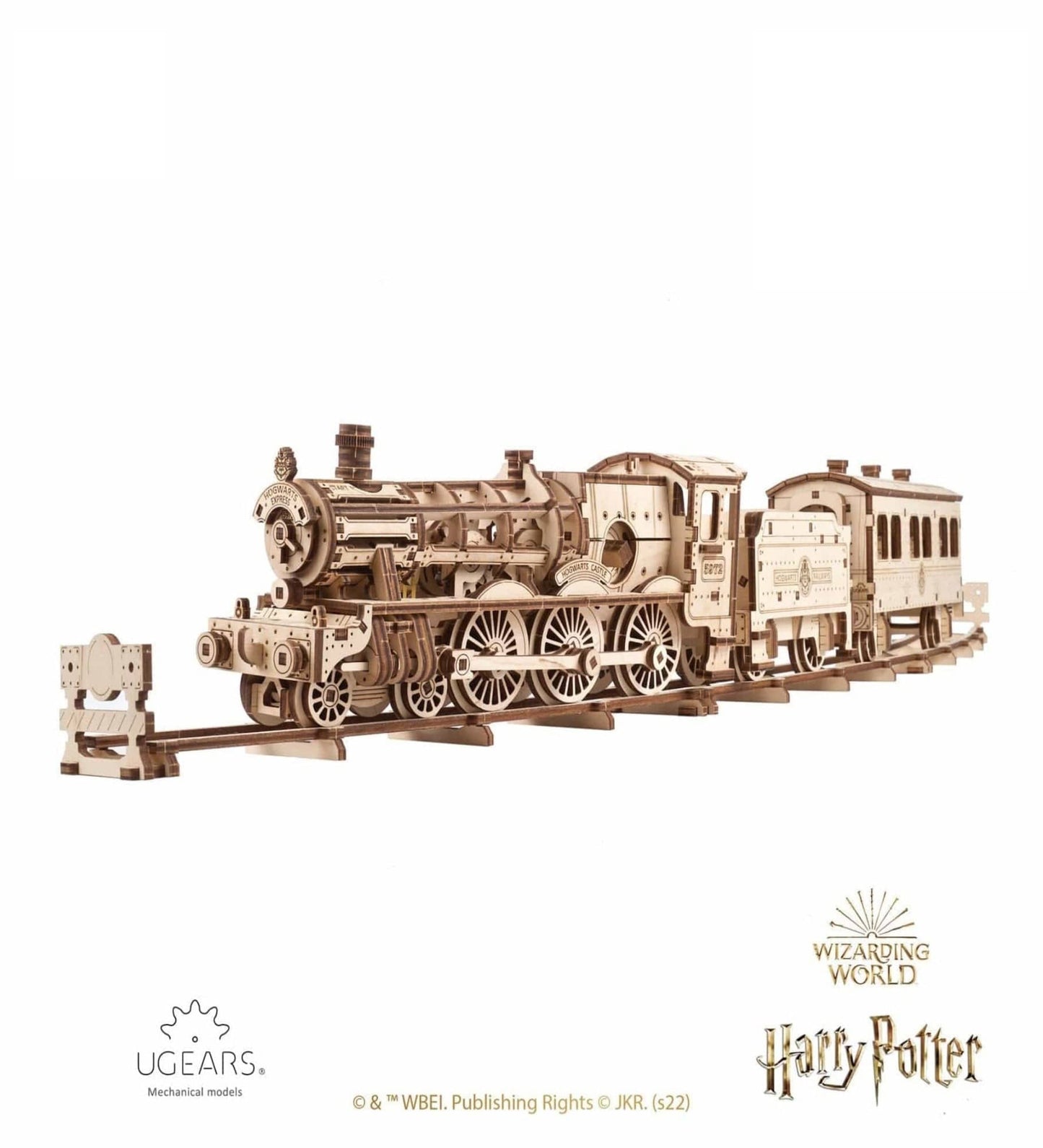 Sale price

$34.99

Regular price

$34.99

Unit price

per

Sale price

$129.99

Regular price

$129.99

Unit price

per

Sale price

$9.99

Regular price

$19.99

Unit price

per

Sale price

$44.98

Regular price

$44.98

Unit price

per

Sale price

$65.99

Regular price

Unit price

per

Sale price

$59.99

Regular price

Unit price

per

Sale price

$59.99

Regular price

Unit price

per

Sale price

$54.99

Regular price

Unit price

per

Sale price

$39.99

Regular price

$39.99

Unit price

per

Sale price

$19.99

Regular price

$39.99

Unit price

per

Sale price

$37.99

Regular price

Unit price

per

Sale price

$29.99

Regular price

Unit price

per