Marble Run Stepped Hoist - 2 Mechanical Model
See more by UGears
Sale price
$59.99
Regular price
Unit price
per
See More Details
Sale price
$59.99
Regular price
Unit price
per
HURRY! ONLY 16 ITEMS LEFT IN STOCK
See More Details
Key Features

We have designed the Ugears line of marble runs to be modular so each model works as a standalone, or it can be connected frontally or laterally to other UGears marble runs of the same or different design (2 or 4 models can be connected, in pairs, using the special connectors included in the kit)
As you build this ingenious wooden marble run, you will learn about the interplay of drive gears and driven gears and the function of counterweights. Turn the crank handle clockwise to set the machine in motion and prepare to be mesmerized as the alternating stepped ladder collects, lifts, and passes the marbles back and forth until they reach the top of the machine to start their runs
Everything you need for this fun DIY project comes right in the box, including pre-cut wooden boards, 10 marbles, plus wax and sandpaper (for optimal gear function). Each UGears model kit, 3D puzzle, or brain teaser comes with a set of detailed, illustrated instructions in 11 languages
The Marble Run Stepped Hoist has 355 pieces, is rated "Advanced" level, and has an estimated assembly time of 8 hours. If you break a piece during construction, don't panic! UGears models each come with a few spare parts included

 Montessori toys promote independent exploration and skill-building, which is exactly what this toy does!

Please note: Returns are not accepted unless in original, shrink-wrapped condition.
Great for ages 10 and up

Description

Introducing the Marble Run Stepped Hoist, the second in a series of UGears modular marble runs! This fun and fascinating wooden marble run features an ingenious 3-stepped alternating lift mechanism and a set of new features to hold your attention as you watch the marbles make their cyclical journey. Multiple tracks and elements are packed into a compact space in this DIY marble run.

The model has a 3-stage alternating lift that hands the marbles back and forth as they climb to the top to embark on their amusement park adventures. Which marble will take which track, and which will make it down first? The Marble Run Stepped Hoist features a 3-marble accumulator in which the third ball opens the gates for the trapped first and second marbles, sending all three along their divergent paths. There are three tracks: the first consists of a 2-marble accumulator and serpentine run, the second is a hammer swing inside a C-shaped cradle, and the third has a whirlpool or funnel. All marbles eventually pass through the collection tray and into the seesaw lift. A rocker switch mechanism either sends the marbles back along the return track to the 3-stepped lift, or (and this is where it gets really exciting!) into another attached UGears marble run.
Specifications

Dimensions
Model size: 11.6 x 10.6 x 10.8 in 
Package size: 14.9 x 6.7 x 1.3 in

Weight
2.28 lbs 

Number of Parts
355

Assembly Time
8 hours

Level
Hard
Shipping & Returns

Shipping
We ship most in-stock merchandise within 24 hours of receiving your order. Standard ground delivery usually arrives in 5-7 business days.

Easy 30-Day Returns
If, for any reason, you are not 100% satisfied with one of our products, you may return it for a refund within 30 days of the purchase date. Please note, some items have additional return restrictions. For complete information on our returns policy and procedure, visit our Easy 30-Day Return Policy Page for full details.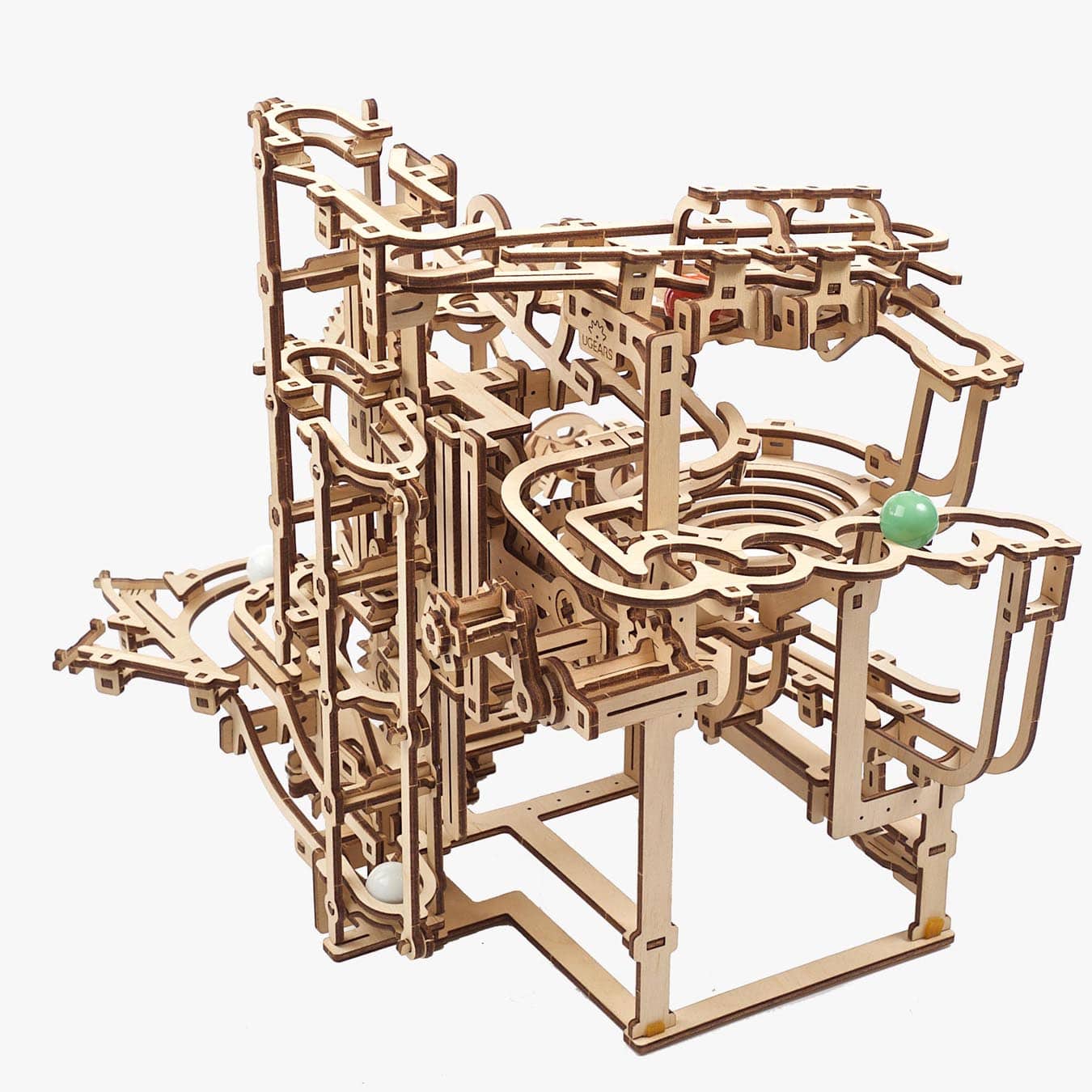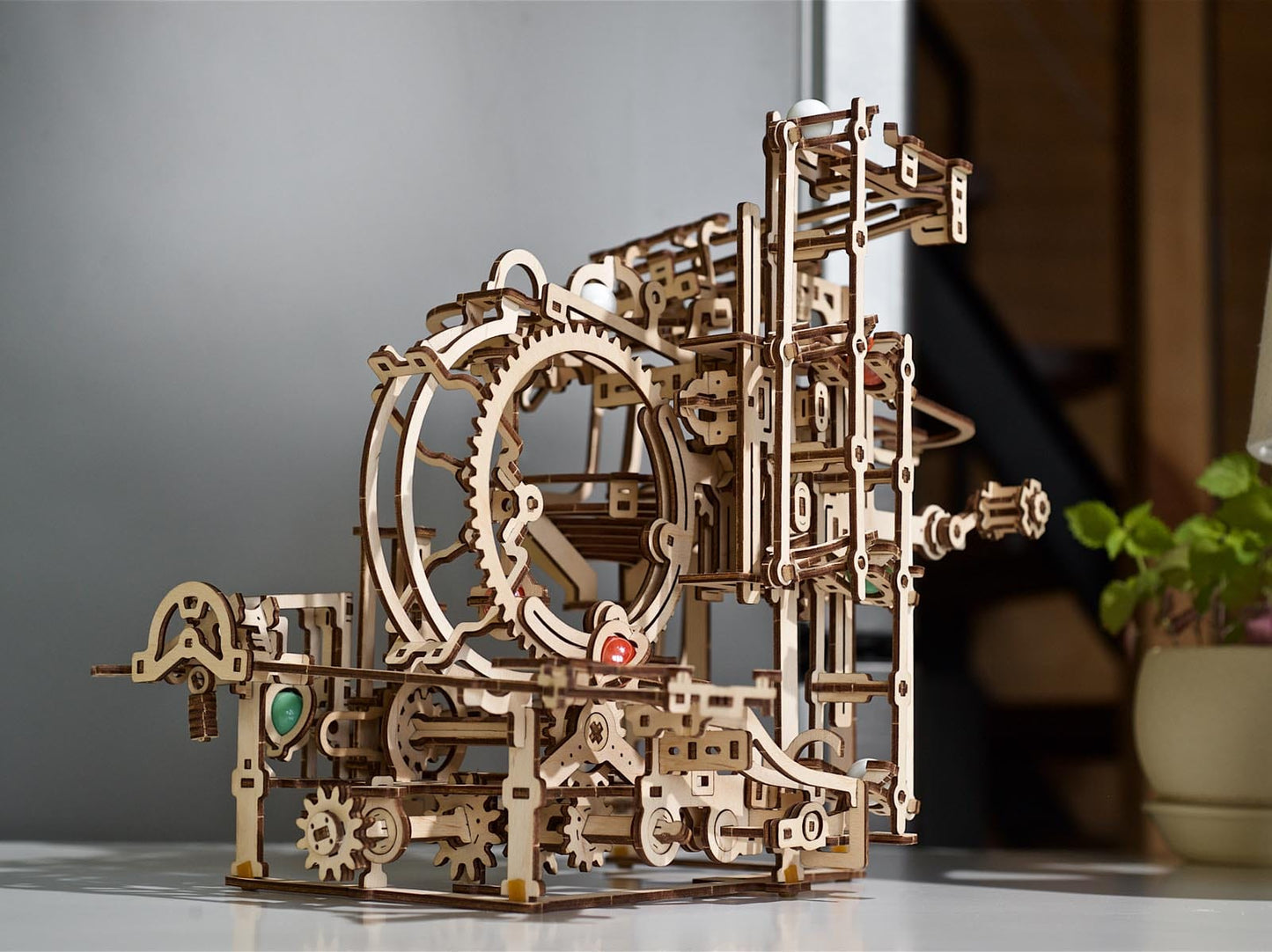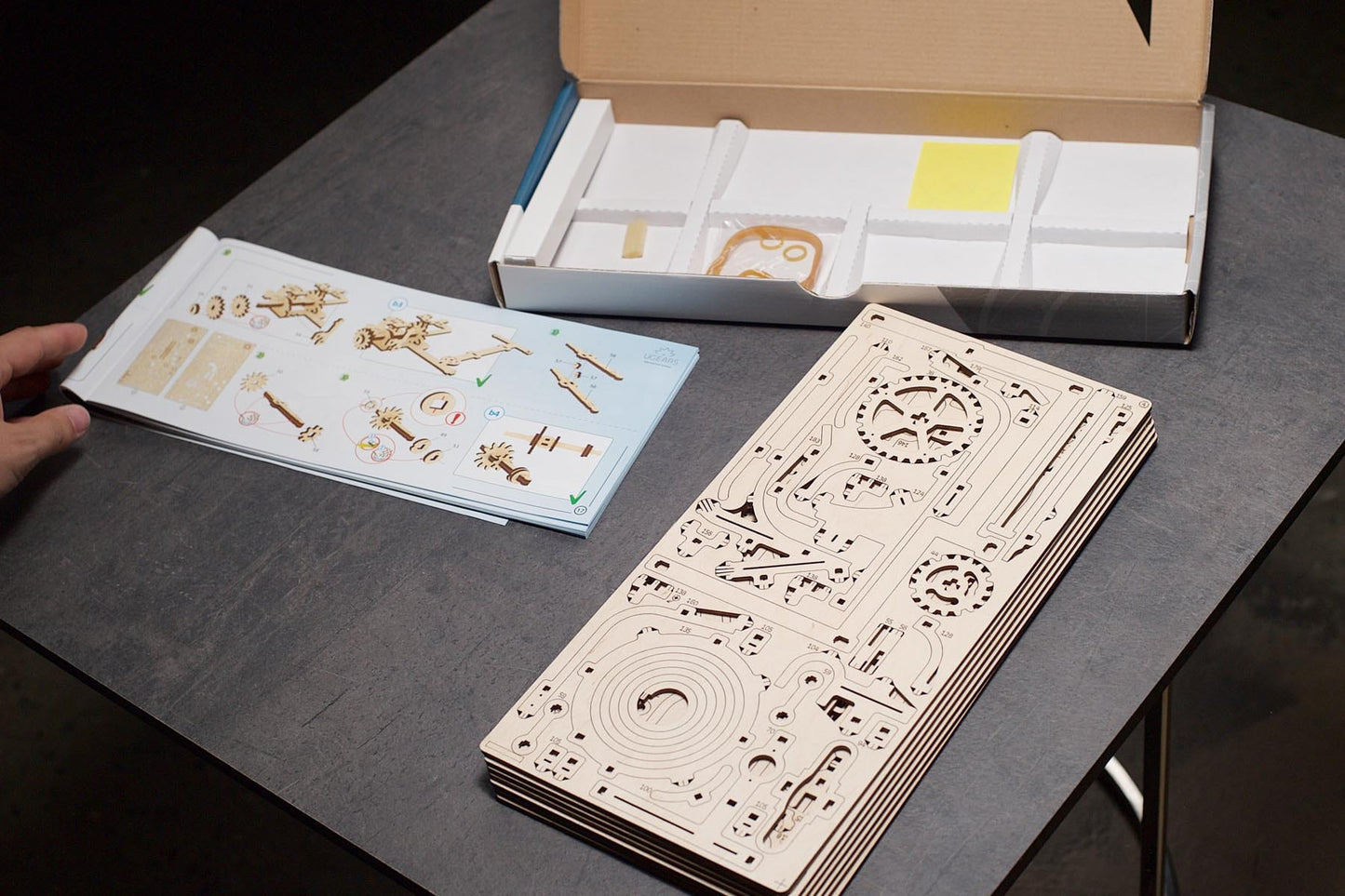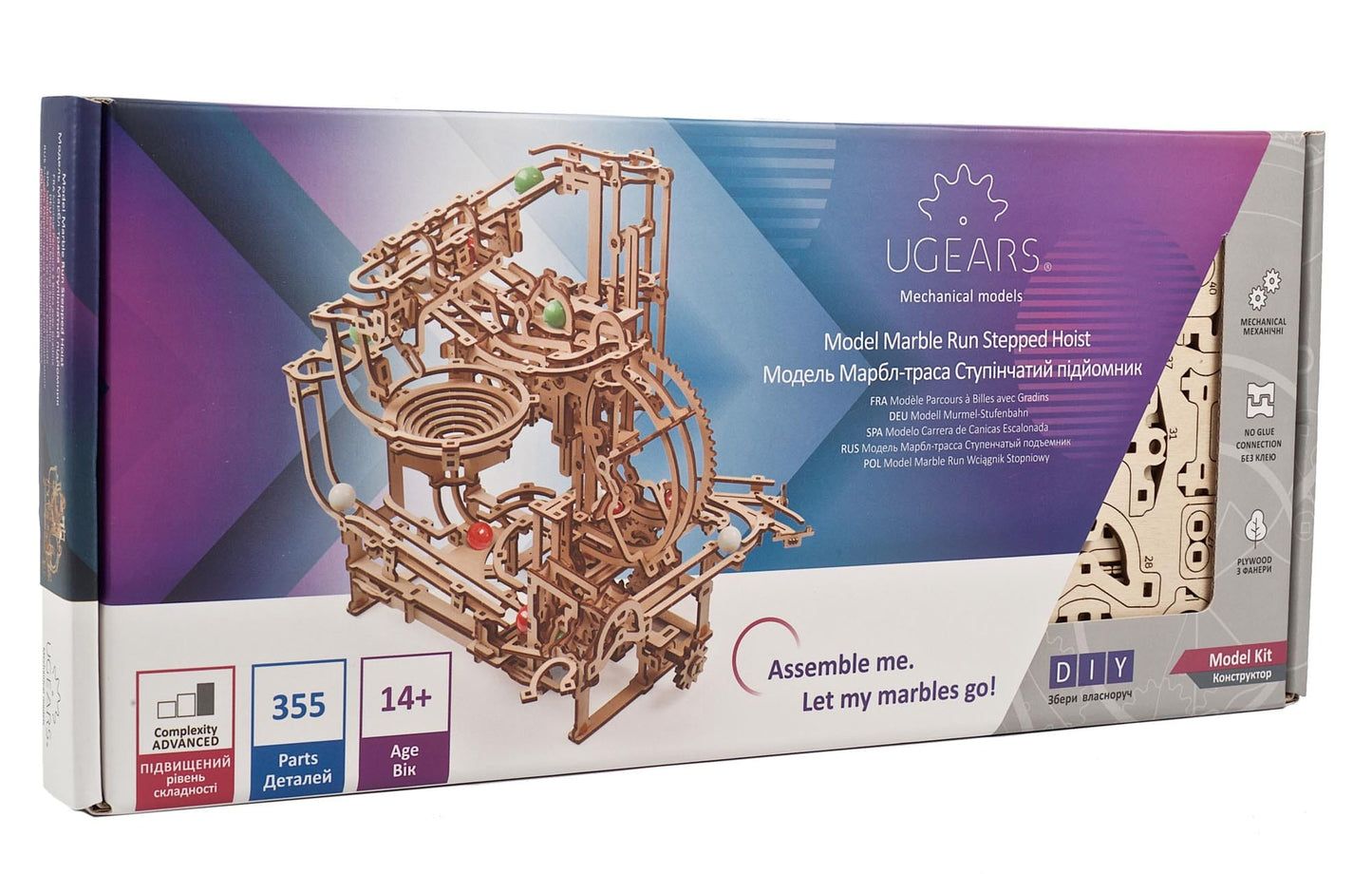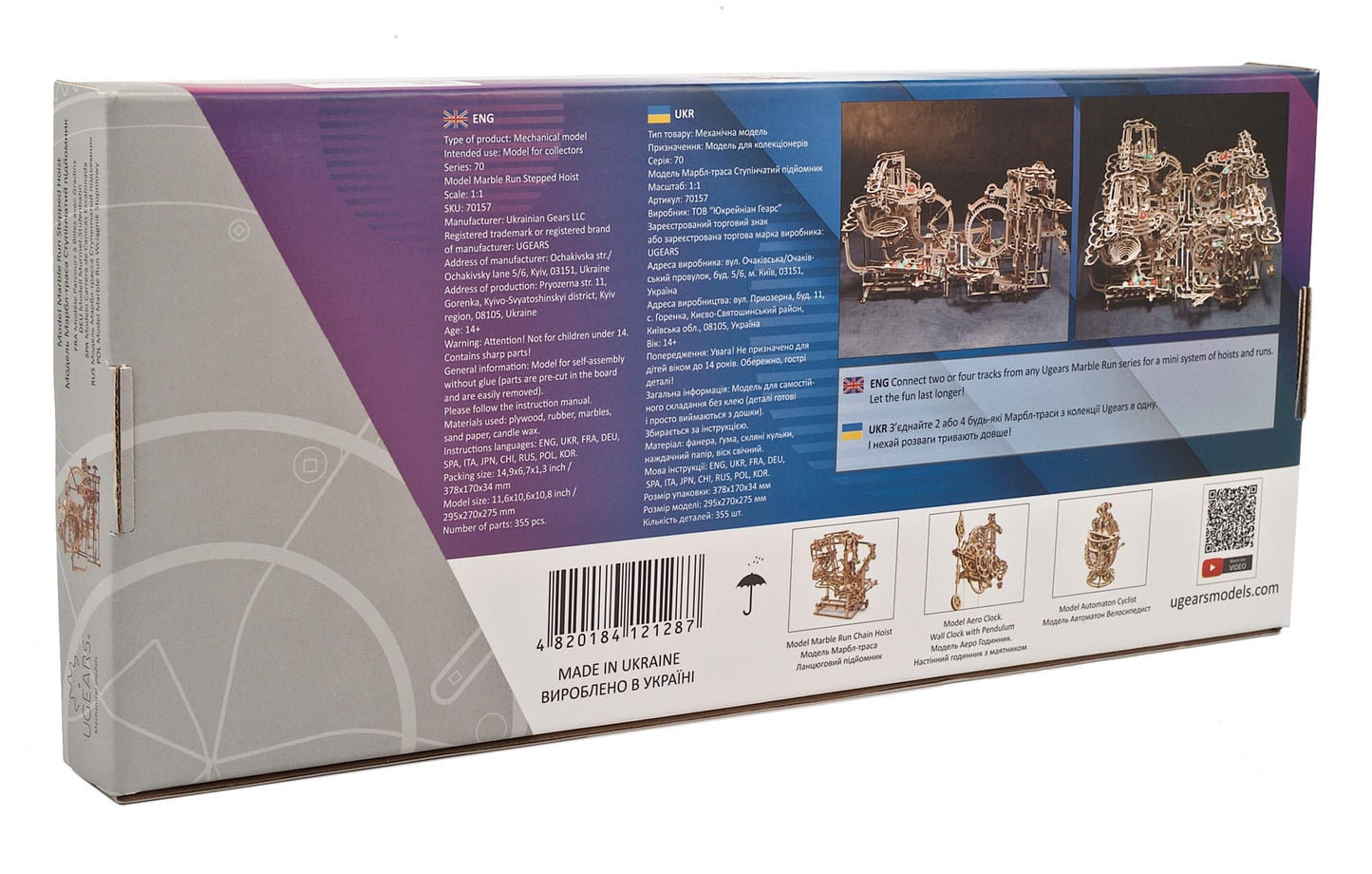 Sale price

$34.99

Regular price

$34.99

Unit price

per

Sale price

$129.99

Regular price

$129.99

Unit price

per

Sale price

$9.99

Regular price

$19.99

Unit price

per

Sale price

$44.98

Regular price

$44.98

Unit price

per

Sale price

$65.99

Regular price

Unit price

per

Sale price

$59.99

Regular price

Unit price

per

Sale price

$59.99

Regular price

Unit price

per

Sale price

$54.99

Regular price

Unit price

per

Sale price

$39.99

Regular price

$39.99

Unit price

per

Sale price

$19.99

Regular price

$39.99

Unit price

per

Sale price

$37.99

Regular price

Unit price

per

Sale price

$29.99

Regular price

Unit price

per