Treasure Box Wooden Model Kit
See more by UGears
Sale price
$54.99
Regular price
Unit price
per
See More Details
Key Features

Assembling this high precision model is not very difficult, and it can be set up in just a couple of hours following. No glue and special tools are needed for putting the model together. You can assemble it at home on the table. Fits together like a puzzle without glue or special tools
After assembly, this delicately carved work of wooden puzzles' lid and sides invites you to gain a glimpse into the mystery that the moving gears conceal
The box contains a compartment that can be open and closed with an exquisitely carved key that can be used to set the gears in motion by turning it clockwise. The box compartments can be used to store your treasures like jewelry and memorabilia
The kit has all you need for assembly: a set of high-quality plywood boards with precisely cutout parts, full-color, detailed step by step, truly easy to follow instructions and several spare parts inside. The model is made of a high-quality plywood tested in European laboratories and approved for use in the production of furniture for children

 Montessori toys promote independent exploration and skill-building, which is exactly what this toy does!

Please note: Returns are not accepted unless in original, shrink-wrapped condition.
Great for ages 10 and up


 
Description

UGears Mechanical Treasure Box is a unique IQ teaser puzzle that has been dynamically engineered to be self-assembled. The assembly kit consists of intricately carved woodwork of the highest quality that is eco-friendly. The delicate carved work of its lid and sides invites you to gain a glimpse into the mystery that the moving gears conceal. With UGears Treasure Box, your secrets are safe.
Specifications

Dimensions
Model size: 5.1 x 5.1 x 6.3 in 
Package size: 14.6 x 6.7 x 1.2 in

Weight
1.84 lbs 

Number of Parts
109

Assembly Time
2-3 hours

Level
Easy
Shipping & Returns

Shipping
We ship most in-stock merchandise within 24 hours of receiving your order. Standard ground delivery usually arrives in 5-7 business days.

Easy 30-Day Returns
If, for any reason, you are not 100% satisfied with one of our products, you may return it for a refund within 30 days of the purchase date. Please note, some items have additional return restrictions. For complete information on our returns policy and procedure, visit our Easy 30-Day Return Policy Page for full details.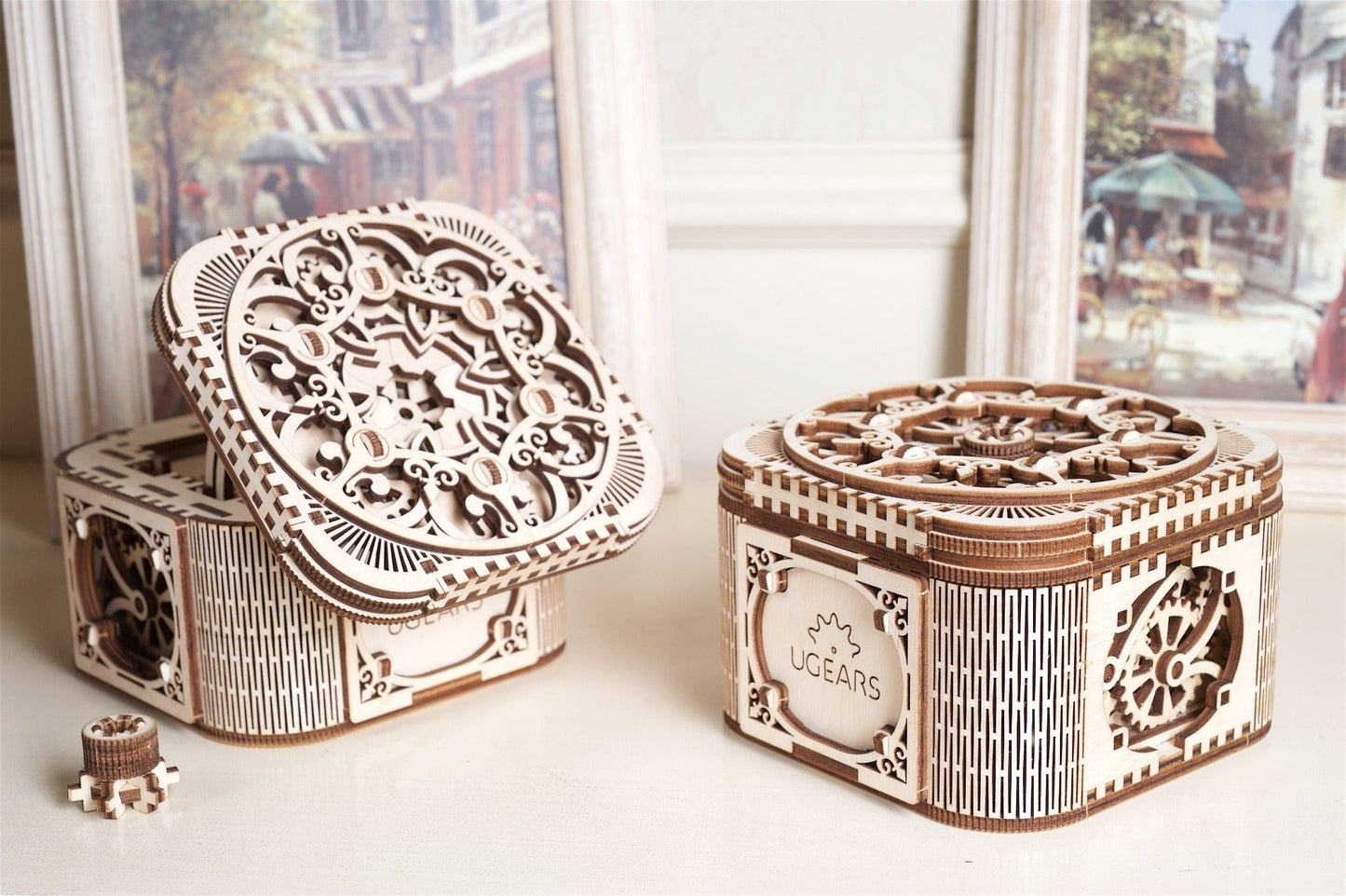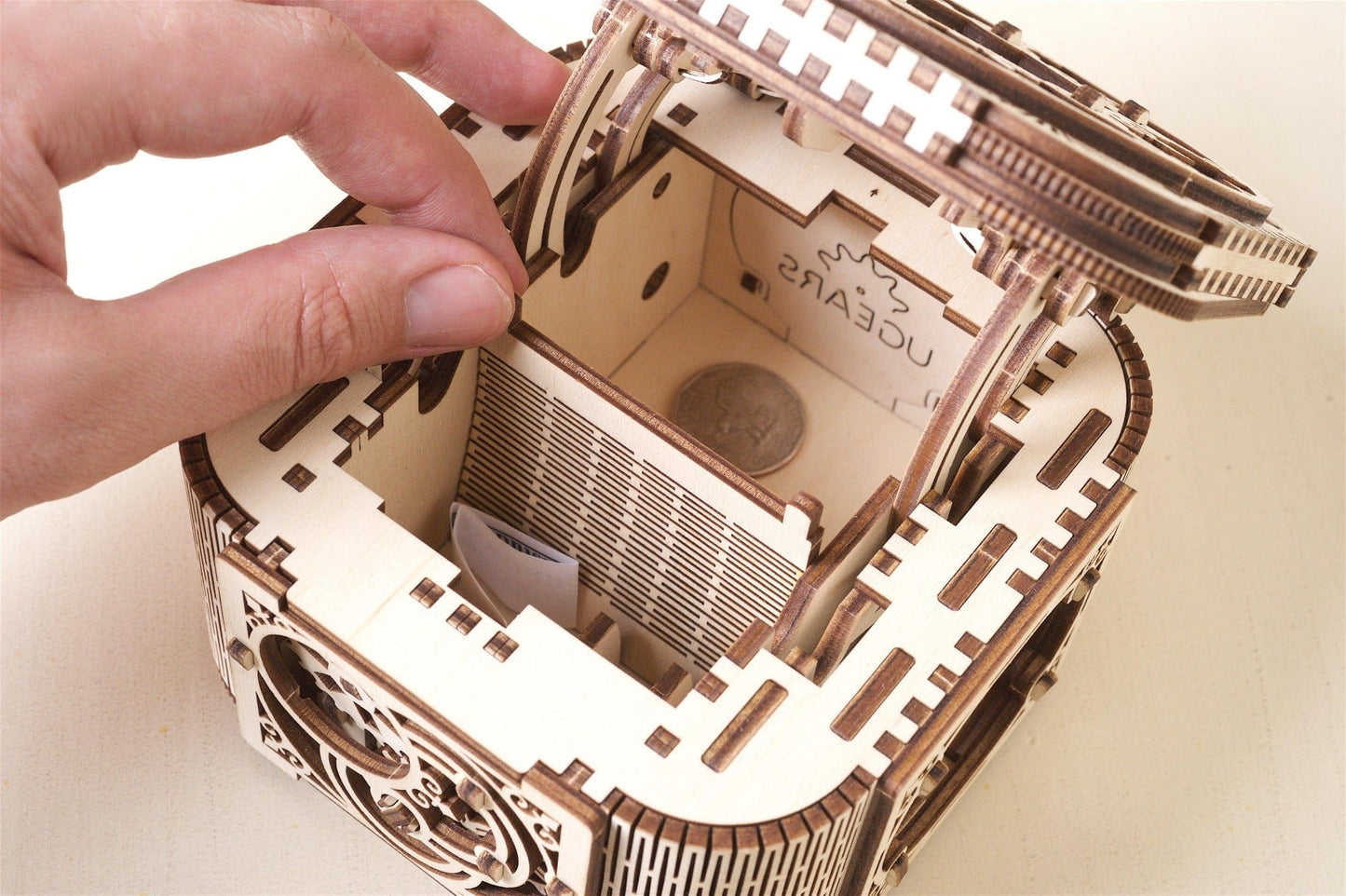 Sale price

$34.99

Regular price

$34.99

Unit price

per

Sale price

$129.99

Regular price

$129.99

Unit price

per

Sale price

$9.99

Regular price

$19.99

Unit price

per

Sale price

$44.98

Regular price

$44.98

Unit price

per

Sale price

$65.99

Regular price

Unit price

per

Sale price

$59.99

Regular price

Unit price

per

Sale price

$59.99

Regular price

Unit price

per

Sale price

$54.99

Regular price

Unit price

per

Sale price

$39.99

Regular price

$39.99

Unit price

per

Sale price

$19.99

Regular price

$39.99

Unit price

per

Sale price

$37.99

Regular price

Unit price

per

Sale price

$29.99

Regular price

Unit price

per