Windstorm Dragon Wooden Model Kit
See more by UGears
Sale price
$56.99
Regular price
Unit price
per
See More Details
Key Features

UGears Dragon has bones of the wings are made of wood, but the rest is beautifully designed feathery paper cutouts. Softer and flexible material makes the flight look very realistic and leaves room for your own ideas
The model can be set on special support or hung on twine. It will look equally fascinating with its laser engraved scales and spiky tail
The model is made of high-grade wooden materials and comes with everything you need in the box. Solve the mechanical mystery of an ancient beast and become a Dragon Master with UGears Windstorm Dragon model!
The ideal gift for older children looking for a cool building challenge with BIG rewards

 Montessori toys promote independent exploration and skill-building, which is exactly what this toy does!

Please note: Returns are not accepted unless in original, shrink-wrapped condition.
Great for ages 10 and up


 
Description

Welcome to the dwelling of a wise and cunning beast guarding countless treasures he will only reveal to the one bold enough to face his mechanical magic! Behold – the magnificent Windstorm Dragon of the UGears' automatons collection is here to challenge your wits and skills in your next mechanical models' adventure.

The Windstorm Dragon is a classic mythical reptilian, the embodiment of ancient might and power, presented in wood and animated by the wizardry of UGears engineers.

Your new magnificent pet has an open-style design that allows you to see its mechanical heart – rubber-band motor – beating. The model has a winding key in the frontal part of its chest. To wind it up, hold the dragon by its body and rotate the key clockwise. Release the motor by pulling the start lever. This is when the magic begins: the arms, legs, and even the whole body of the Dragon will start to move. And of course, the amazing pair of strong and beautiful wings will be set in motion.

 
Specifications

Dimensions
Model Size: 20.9 x 19.1 x 11.4 in
Package size: 14.9 x 6.7 x 1.2 in

Weight
1.68 lbs 

Number of Parts
320

Assembly Time
6 hours

Level
Intermediate
Shipping & Returns

Shipping
We ship most in-stock merchandise within 24 hours of receiving your order. Standard ground delivery usually arrives in 5-7 business days.

Easy 30-Day Returns
If, for any reason, you are not 100% satisfied with one of our products, you may return it for a refund within 30 days of the purchase date. Please note, some items have additional return restrictions. For complete information on our returns policy and procedure, visit our Easy 30-Day Return Policy Page for full details.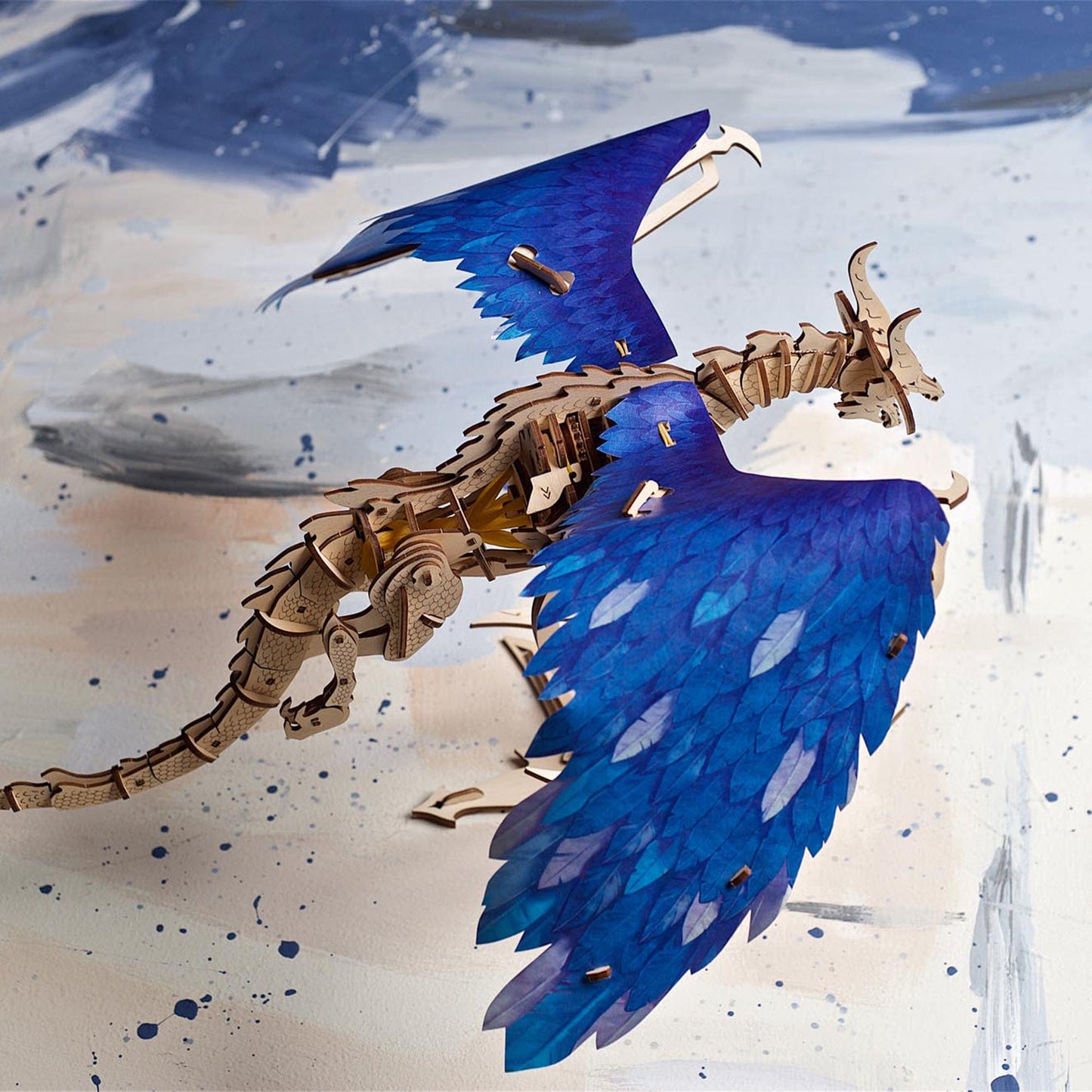 Sale price

$34.99

Regular price

$34.99

Unit price

per

Sale price

$44.98

Regular price

$44.98

Unit price

per

Sale price

$129.99

Regular price

$129.99

Unit price

per

Sale price

$9.99

Regular price

$19.99

Unit price

per

Sale price

$65.99

Regular price

Unit price

per

Sale price

$59.99

Regular price

Unit price

per

Sale price

$59.99

Regular price

Unit price

per

Sale price

$54.99

Regular price

Unit price

per

Sale price

$39.99

Regular price

$39.99

Unit price

per

Sale price

$19.99

Regular price

$39.99

Unit price

per

Sale price

$37.99

Regular price

Unit price

per

Sale price

$29.99

Regular price

Unit price

per