Introducing HearthSong's new line of bikes, trikes, scooters, and other wheeled toys designed to grow alongside your kids ages 1-12! One2Go™ products are developed with the understanding that a child's first taste of independence and freedom often comes in the form of powering and steering their own wheeled toy. Focusing on developmental milestones such as balance, gross and fine motor skills, and problem solving, this specially-selected assortment of toys supports kids' movement to independence. Come grow with HearthSong!
Level 1: Foot to Floor Ladybug Ride-On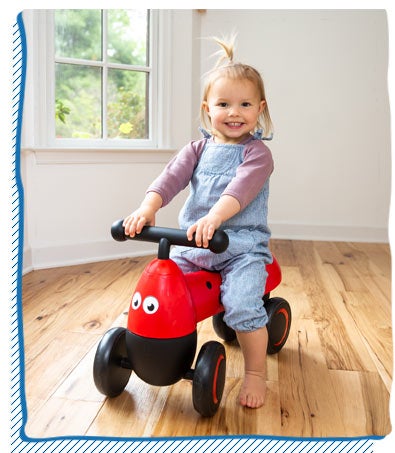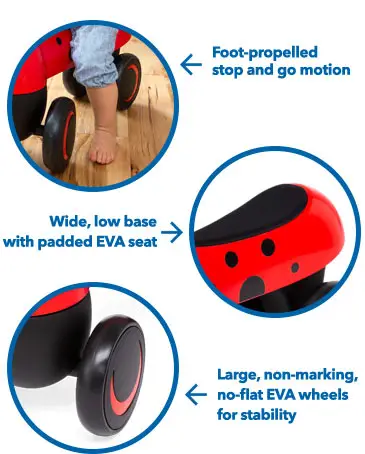 Perfect for beginners, this adorable Ladybug Ride-On is powered by foot-propelled stop and go motion, helping toddlers build strength and confidence while developing independence in a controlled environment.
· 21½"L x 10"W x 15½"H
· For ages 18 months-3 years
· Supports up to 55 lbs.
Level 2: 2-in-1 Folding Tricycle and Balance Bike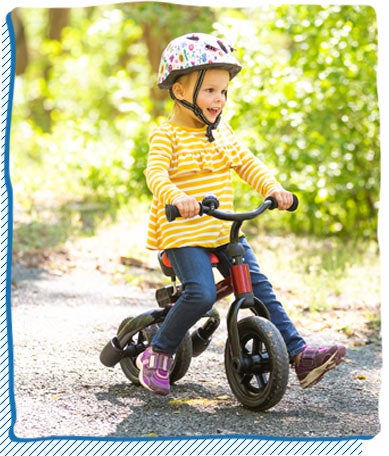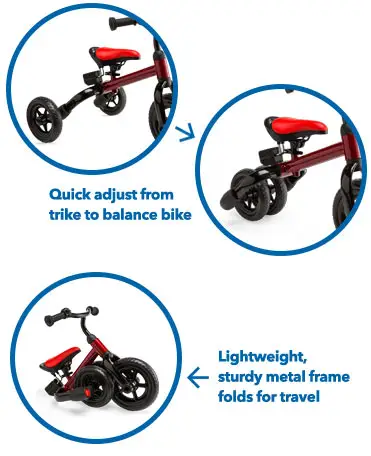 Lightweight, sturdy modular trike snaps into a balance bike as kids grow and build strength and confidence. Bonus-the wheels break down for easy travel and storage, and kids love the red push-button bell on the handlebar!
· Tricycle position: 26"L x 15"W x 20"H
  Handlebars: 15"W
  Saddle: 9½"L x 5½"W
  Folded for travel: 15" sq.
· For ages 3 and up
· Supports up to 55 lbs.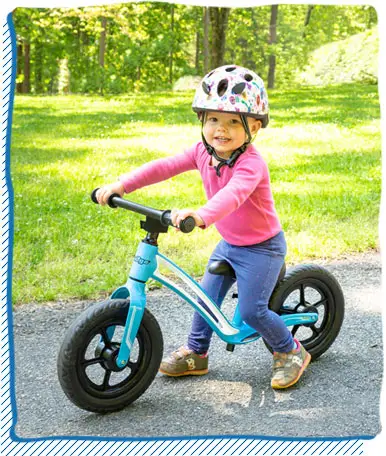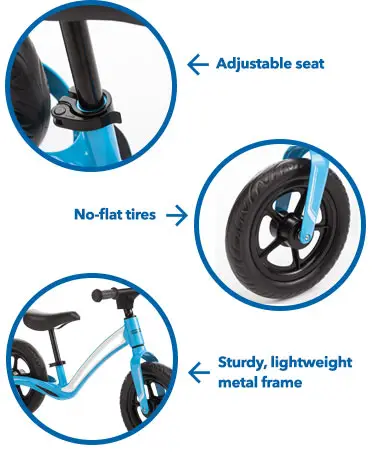 Incorporating the skills of a foot-to-floor with the added skill of learning balance, skip the training wheels with our Balance Bike. This self-propelled bike boasts solid wheels and no-flat tires, thick handle grips for safety, and a quick-release adjustable saddle that grows with your child.
· Standover height: 11½"H
  Seat to floor height adjustment: 12"-16"H
  Handlebar: 15½"L
  Center of saddle to handlebars: 15"L
  Wheel size: 12"
  Wheel base: 23"
· For ages 3-7
· Supports up to 65 lbs.
Level 4: Adjustable Height Kick Scooter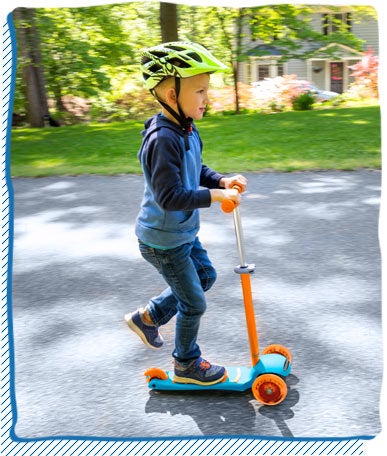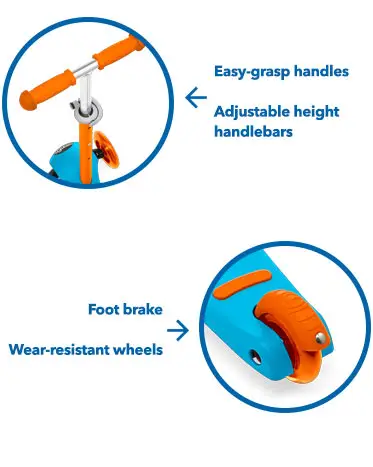 Lightweight plastic and aluminum alloy 3-wheeled Adjustable Height Kick Scooter has wear-resistant, no-flat wheels, and a footbrake over the back wheel for safe stopping. A great way to master scooter skills, the adjustable height grows with your child!
· 11"L x 5"W x 20"H
  Adjusts 23½"-30"H from floor to top of grip
· For ages 3 and up
· Supports up to 45 lbs.
Level 5: Twist ´n Go Cart Ride-On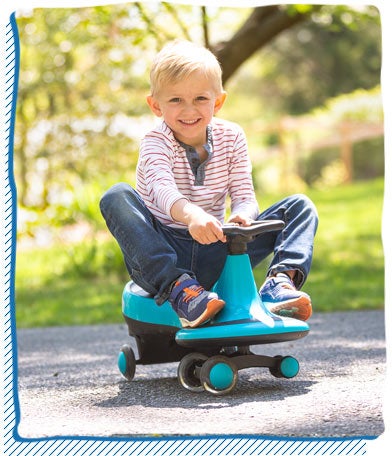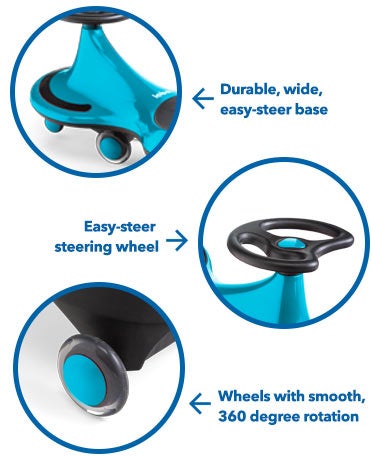 Kids use their own energy, and the push-pull of centrifugal force, to move the Twist ´n Go Cart Ride-On a full 360 degrees. Just sit on the sturdy, wide base, place both hands on the wheel, and lean to the right or the left-the ride will follow!
· 27"L x 12"W x 15"H
· For ages 3 and up
· Supports up to 110 lbs.
Level 6: Adjustable Roller Skates with ABEC 5 Bearings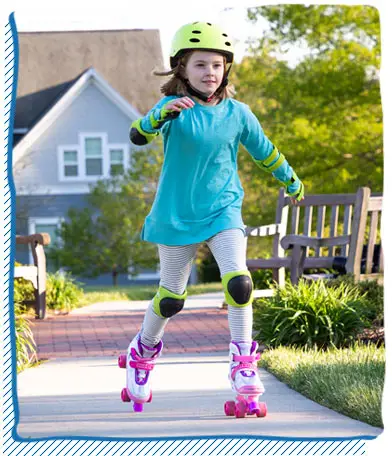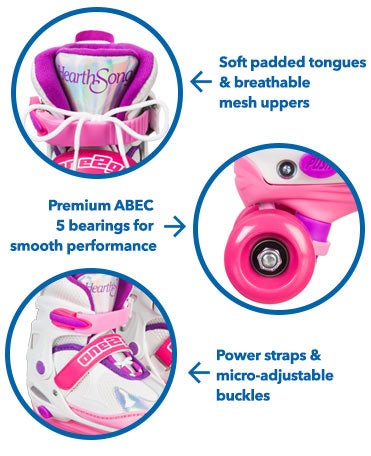 Kids can show off all the skills they've mastered when they take a lap in our Adjustable Roller Skates. Featuring ABEC 5 bearing rollers for smooth, easy skating, micro-adjustable buckles, and thick padded tongues for comfort, these roller skates build overall strength and improve balance skills.
· Adjust to fit whole shoe sizes 1-4
· For ages 4 and up
· Supports up to 110 lbs.
Level 7: Wiggleboard 3-Wheel Balance Board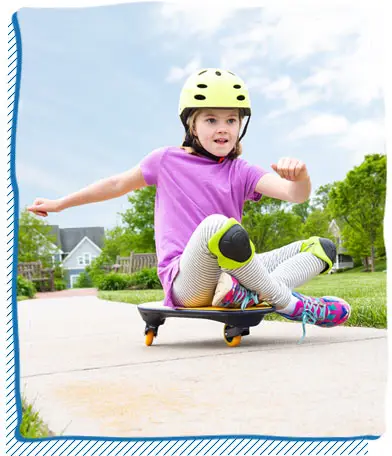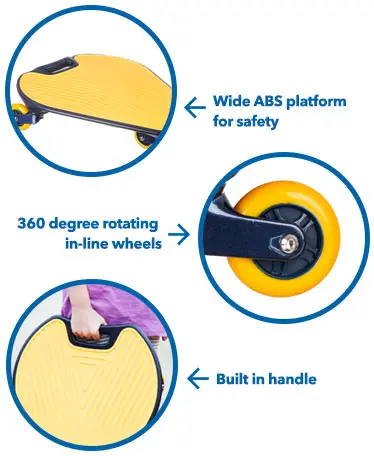 Advanced riders who are mastering balance and motor skills will love our Wiggleboard 3-Wheel Balance Board with its wide ABS platform and 360 degree rotating inline wheels. Introducing fundamentals of skateboarding, this rolling board helps to develop spinal and core strength, improves balance, and boosts physical confidence.
· 21½"L x 16"W x 5"H
· For ages 6 and up
· Supports up to 220 lbs.
Ready to roll? One2Go™ has your complete riding line-up laid out for you. Before you know it, your children will be experiencing that exhilarating feeling of freedom as they coast, unaided, on two wheels! (Adult supervision always recommended.)