What's the best seat in the backyard? The swing! If you're thinking about adding a swing to your backyard play adventures, we know you have questions—and we are here to help. Here are some tips on assembling and installing your new swing in the backyard.  
Q: Are your swings easy to assemble, and what kind of extra equipment or tools will I need?
A: No one likes long complicated instructions, or an extensive list of "what do I need to buy at the hardware store?" Most of our swings are relatively easy to put together (think two adults with a cup of coffee and about 20 minutes to spare, no engineering degree required), and most come with all hardware and tools necessary to assemble. Some may require a bit more assembly time, but don't worry—all of our swings come with detailed instructions and images (as shown below) to guide you.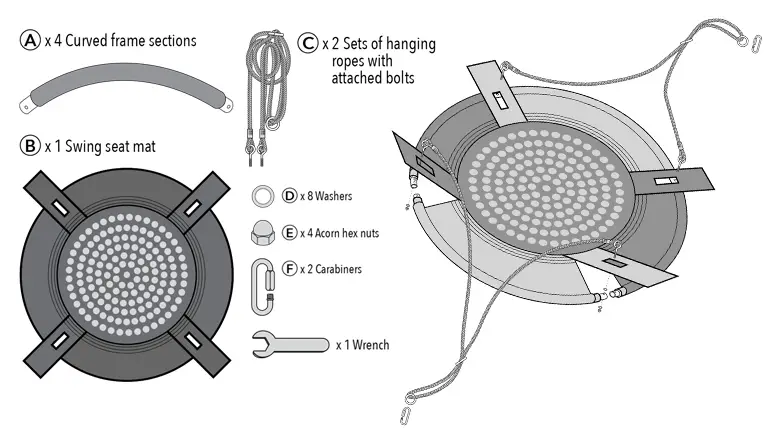 Depending on where you're installing your swing, you may need additional hanging straps and stainless-steel or galvanized carabiners (which can be found at your local hardware store). Check the details on each individual swing to find out what additional materials you'll need.
Q: How do I hang my swing from a tree—what should I look for?
A: First of all, please don't hang your swing from that beautiful ornamental Bonsai tree, unless you're setting up a swing for fairies—it's probably not going to support your child. Now that we've got that covered, here are a few more tips for selecting a terrific tree-swinging tree branch:
1. Pick a straight, strong mature tree with a single non-split trunk and no signs of rot or fungus. Beech, oak or maple trees are great choices; avoid less-sturdy trees like willow, poplar or birch. Tip: thump the trunk of the tree with a rubber mallet and listen for a hollow-sounding echo, which likely is a sign of decay. DON'T hang your swing from a hollow tree—leave it as a nesting spot for birds.
2. Allow plenty of room for kids to swing those legs. A good rule of thumb is to allow approximately two times the distance between the pivot point (where the swing strap attaches to the hanging structure, in this case your tree limb) and the seat; and approximately six feet of clearance between the swing and any surrounding structure (building, tree, fence, etc.)
3. Check the root system—if there is standing water nearby, there's a good chance the ground is saturated and unable to withstand the vigors of playing on a swing.
4. Before hanging your swing, check overhead for dead or broken limbs—you don't want these hazards dislodged once your child starts enthusiastically swinging!
5. Look for thick, horizontal limbs with new growth or new leaves, and no cracks or missing bark. Be sure to also check the union of the branch and the trunk for any signs of weakness.
6. The hanging limb should be at least 10" in diameter, and as level as possible. If your limb isn't level, you can adjust the length on one side using our Hanging Straps (more on this later).
7. Consider the height of the limb: we recommend hanging your swing no higher than 18" from the ground, and no closer than 8" to the ground.
Swing Rope + Hanging Strap = Total Hanging Length
Total Hanging Length + Recommended Fall Height - Circumference of Limb = Actual Length
8. Make sure the landing surface underneath the swing is soft. Ideally, the swing should be hung over loose-fill materials such as wood mulch or chips, engineered wood fiber (EWF), or shredded or recycled mulch.
9. Clear all hazards such as rocks, stumps and exposed roots, and make sure the landing zone is relatively flat (we don't want downhill tumbles after dismounting the swing).
Q: Tell me more about the Sky Dome Arched Stand.
A: We designed this stand to fit ANY HearthSong swing, no hanging straps necessary. This sturdy stand has multiple hanging points, and it even comes with a swivel spinner attachment built into the stand to transform your swing into a spinning swing. Its massive clearance (17½' diagonal distance between opposite legs and almost 13' between legs on each side) allows for plenty of free swinging without contacting the supports. Shop our exclusive Sky Dome Arched Stand.

Q: How do I use your Hanging Straps?
A: They're so simple to use, even your teenager who never has "time" to help, will be willing to set up your swing (and we bet they'll even take a ride on it). Our swing straps (Mega Multi-Use or Heavy-Duty Multi-Use) are 50"L, and each strap comes with a carabiner to attach to the hardware on the swing's hanging ropes. For most swings, you'll need two hanging straps. Easy as pie: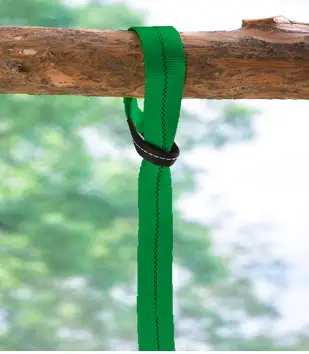 1. Wrap the strap around the hanging limb or beam you've chosen, and slide the strap through the loop on one end. Tip: to shorten the hanging length on one or both sides, simply wrap the strap around the limb and through the loop several times before attaching your swing.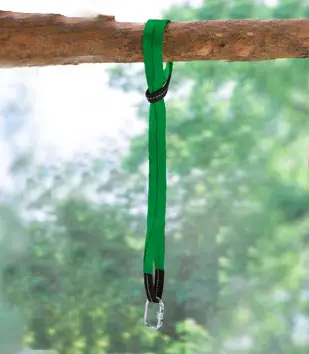 2. Attach the included carabiner to the end of the strap, and hook it to your swing. Additional hanging hardware (carabiners) may be necessary, and is noted in the swings' description online.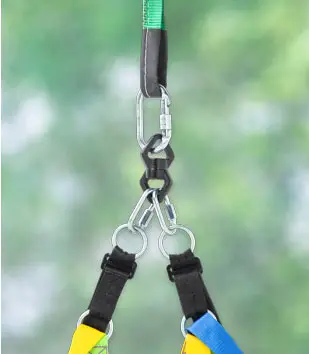 3. If you're transforming your swing into a spinning swing, you'll also need our Swivel Spinner Hardware and two carabiners. Attach one carabiner onto the end of the strap or hanging chain, followed by the swivel spinner, and another carabiner. Now attach all hanging ropes to that carabiner, and you're ready to spin!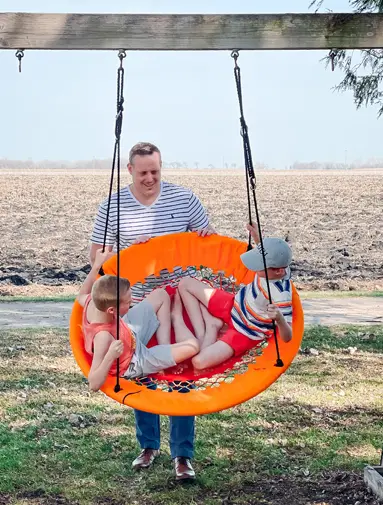 Q: Can I install a HearthSong swing on my A-frame swing set stand?
A: Good news—our swings are compatible with most existing wooden or metal swing stands. As with any piece of outdoor play equipment, you should thoroughly inspect all components for signs of damage or weakness before use. Because we cannot guarantee compatibility with a stand not designed by HearthSong, we do ask that you seek professional advice before installing your swing on your own stand. Our hanging ropes are finished with steel components that can easily attach to the hardware on your stand—please seek professional advice when selecting appropriate hanging hardware.
Are you convinced yet that your children need a swing? Take your pick...we'll see you in the backyard!
PS—if you need help with a specific swing, please contact our customer service team at Happy@HearthSong.com or 888-271-7276.