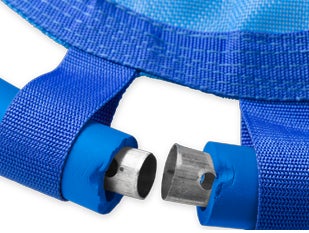 Sturdy steel swing frames that support kids' active play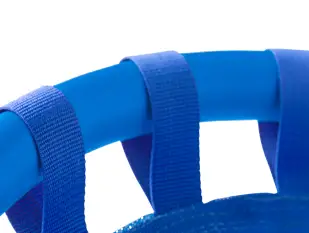 Padded edges that prevent pinches and provide a more comfortable ride
Breathable, quick-dry polypropylene or rope swing mats that allow moisture to drain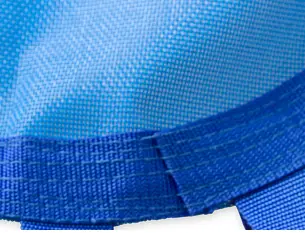 Durable, UV-resistant materials that resist rips and fading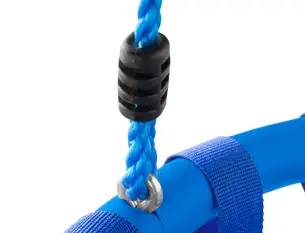 Long-lasting hanging ropes and sturdy hanging hardware
Adjustable hanging straps to accommodate for different hanging situations
Not only are the best materials researched and selected—all of our products also go through the rigorous safety testing required in the US for home playground equipment. These types of tests are performed through a third-party testing source; but we take it a step further by ALSO performing real-world testing in-house with our team of experts, parents and kids (a perk of being a staffer's kid—let's test the new swing!) To make sure your child has the safest ride possible, we test for weight load and capacity based on the typical weight of the rider, while keeping into consideration that the momentum of swinging adds weight and pressure to the swing (allowing for a little wiggle room). Your 100 lb. 10-year old can safely kick her legs and feet and swing to her heart's content without worry of the swing not supporting her! Our swings are also tested for:
• Head, neck or finger entrapments
• Pinch points
• Sharp edges
• Protrusions
In addition, swing materials are tested for heavy metals, including cadmium, phthalates, lead and chromium. We use UV-accelerated light testing, and simulate outdoor conditions such as salt water and extreme weather, to test the durability of your swing, and to prevent against rust and corrosion. And if ANYTHING doesn't pass the HearthSong standard, that swing goes back to the drawing board until it's just right for your family, and ours as well.
For questions regarding a specific swing, reach out to us at: Happy@HearthSong.com OR 1-888-271-7273.