Key Features

Classic family game for all ages and skill levels!
Complete set includes 8 standard size polyresin bocce balls (3.5" diam., 4 green and 4 blue), 1 white pallino ball (1.5" diam.), and a carrying case measuring 7"L x 7"W x 7"D. (Tip-leave cardboard insert inside the bag when storing game to help retain shape)
Add this outdoor-active game of strategy and coordination to your backyard barbecue party or warm-weather get-together, or include it in your Family Game Day. Game rules are so simple, everyone can join in!
Easy set-up: all you need is a stretch of level ground on grass or sand, works great in the backyard or on the beach
Carrying bag included to easily store your bocce balls when not in play, or to take with you on vacation or family road trips
Play one-on-one, or form teams with 2-4 players taking turns
Great for ages 5 and up
Description

Liven up your backyard or beachside party with the family-favorite, multi-generational classic game of Bocce Ball! Also known as Lawn Bowling, Bocce Ball is an ancient game that has been enjoyed by the likes of George Washington and Leonardo DaVinci, and is now gaining popularity as one of the most widely played games in the world. It's a simple game to learn that all ages and skill levels can enjoy together, and a bocce court can be set up just about anywhere. Our exclusive set comes with a durable carrying bag so you can take it with you on your beach vacation or to the campground. Tip-leave the cardboard insert inside the carrying bag to easily store bocce balls when not in play-the cardboard helps the bag keep its shape.

Pick a stretch of level ground for your bocce court (sand works well also). A traditional court measures 76'L x 10'W, but you can adjust the size to accommodate for younger players. One player tosses the smaller target ball (also called a pallino), and each player takes turns tossing or rolling a bocce ball with the goal of getting as close as possible to the pallino. Play one on one, or form teams with an even number of players (two or four on each team is best.) Detailed game play and scoring rules are included.

Our complete Bocce Ball Set includes eight standard size, high-quality, polyresin bocce balls (four green and four blue), one white pallino ball, and a durable carrying bag. Great for family play and fun at your backyard barbecue or birthday party!
Specifications

Size:
Bocce balls: 3½" diam.
Pallino ball: 1½" diam.
Carrying case: 7"L x 7"W x 7"
Shipping & Returns

Shipping
We ship most in-stock merchandise within 24 hours of receiving your order. Standard ground delivery usually arrives in 5-7 business days.

Easy 30-Day Returns
If, for any reason, you are not 100% satisfied with one of our products, you may return it for a refund within 30 days of the purchase date. Please note, some items have additional return restrictions. For complete information on our returns policy and procedure, visit our Easy 30-Day Return Policy Page for full details.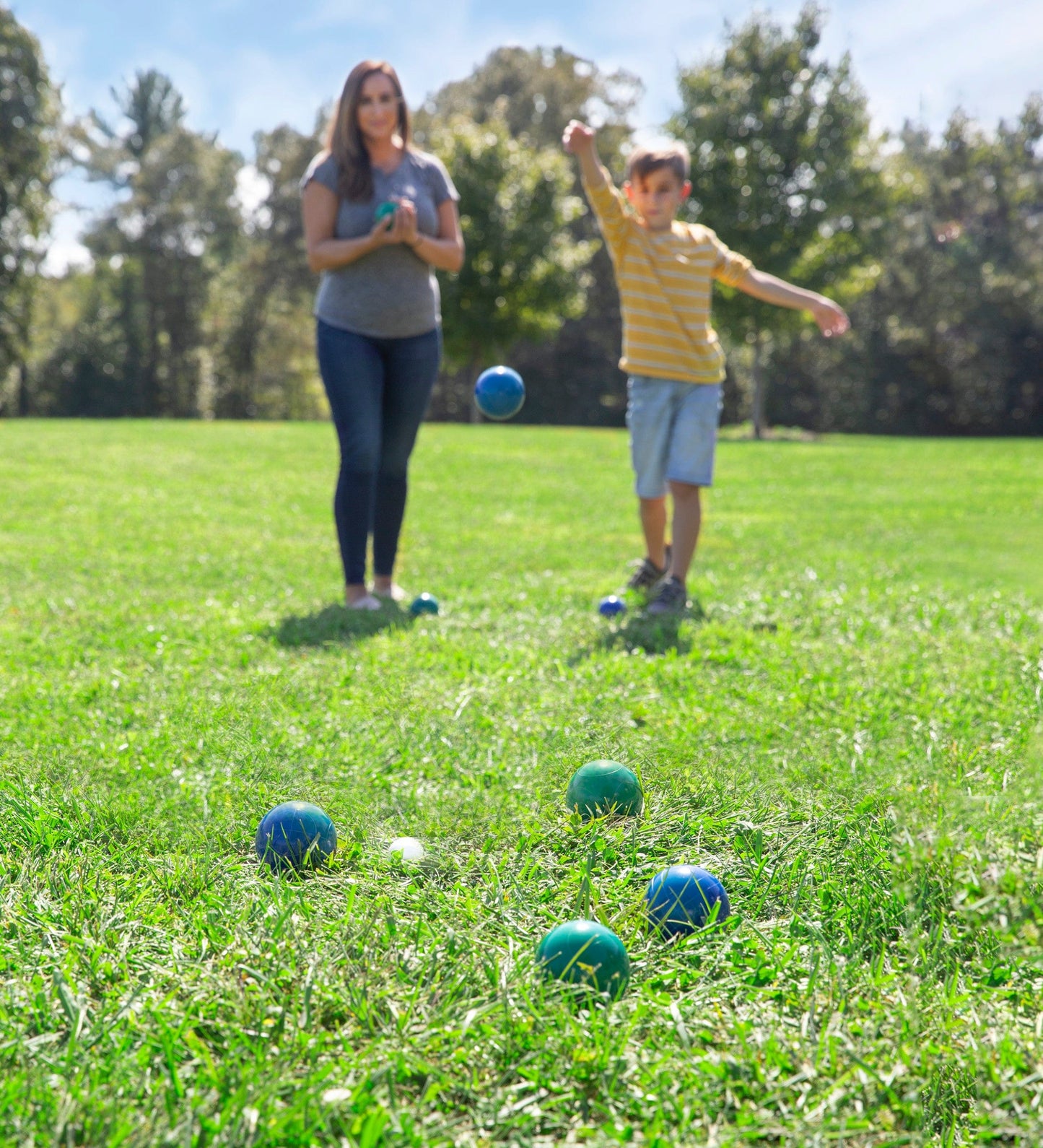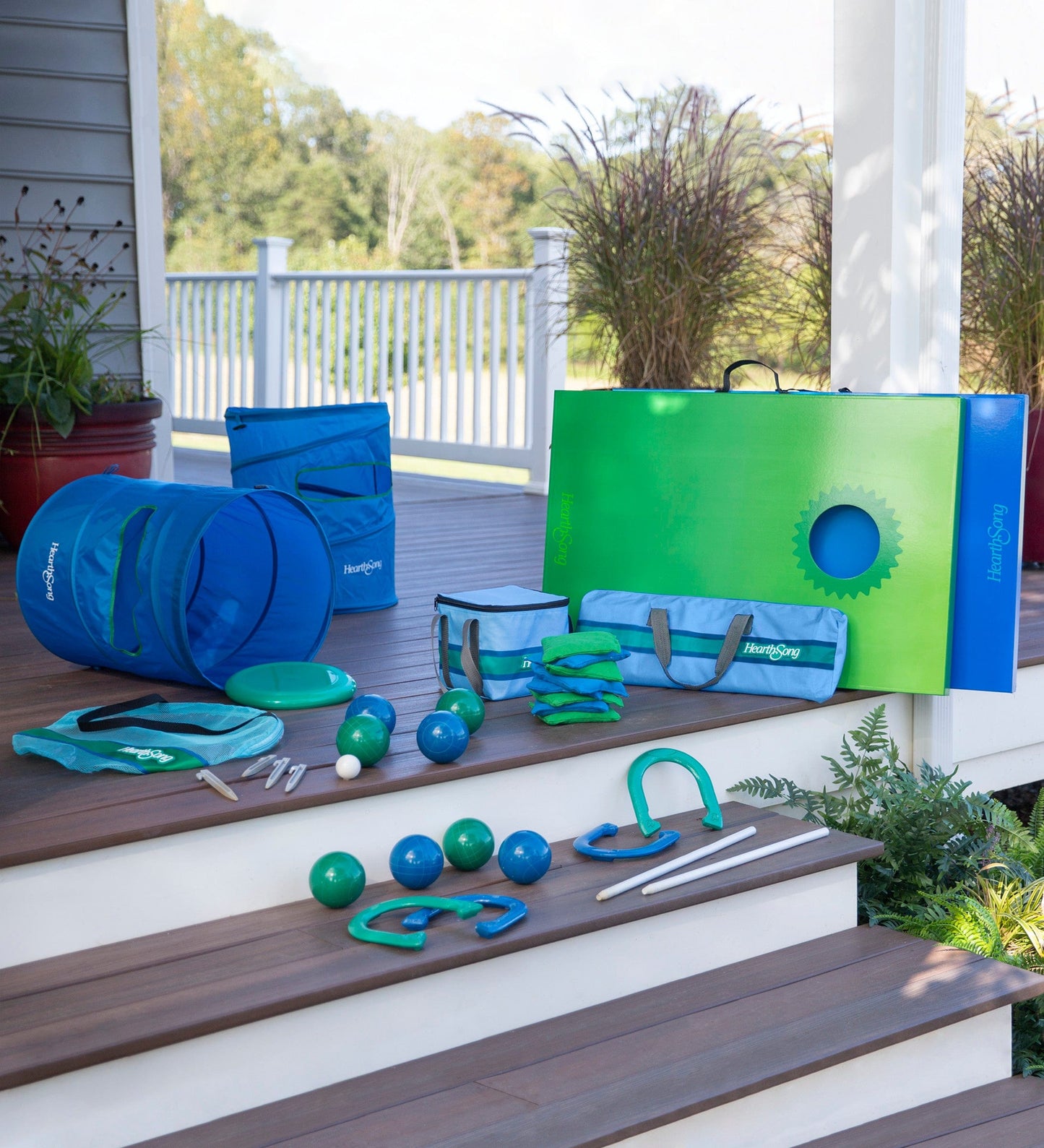 Sale price

$49.99

Regular price

$49.99

Unit price

per

Sale price

$109.99

Regular price

$109.99

Unit price

per

Sale price

$59.99

Regular price

$59.99

Unit price

per

Sale price

$22.49

Regular price

$44.99

Unit price

per

Sale price

$134.99

Regular price

$134.99

Unit price

per

Sale price

$39.99

Regular price

$49.99

Unit price

per

Sale price

$48.74

Regular price

$74.99

Unit price

per

Sale price

$149.99

Regular price

$149.99

Unit price

per

Sale price

$44.98

Regular price

$44.98

Unit price

per

Sale price

$74.99

Regular price

$74.99

Unit price

per

Sale price

$54.99

Regular price

$109.99

Unit price

per

Sale price

$49.99

Regular price

$49.99

Unit price

per