By Andrea Pa of
To: The Simple Heart
Playrooms can be a lot of fun to plan and decorate, but what's more important is what we include inside that play space that will benefit our child's development. This can sometimes be an overwhelming task when juggling the many toys your child inherits as he/she grows. So what types of toys should you keep and how can you organize your space to target all parts of your child's development? As an educator, I set up my son's playroom in a similar way that I would set up centers or workstations in my classroom.
Here are 5 types of centers I like to include in my son's playroom that help shape his cognitive, emotional, social, and physical development.
Reading Center:
I like to include a book center in my son's room, even if it's just a few books in a basket or bin. Children learn a lot by having books in their play environment. Not only do they work on fine motor skills by simply turning the pages, but they also start learning to track or "read" from left to right. Books also help with print awareness, which is the understanding that print has meaning and is very important for developing early literacy skills.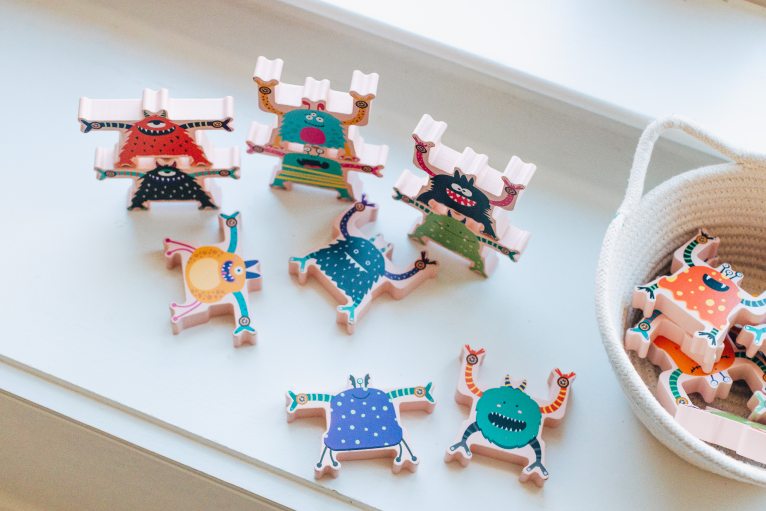 Building Center:
Building toys are great for constructive play, which helps your child understand that things can be put together to create something! This ability gets more complex as a child grows, and building type toys such as blocks, legos, sand, or play dough can greatly benefit this type of play. My son loves these Stacking Monsters from HearthSong. Not only is he learning to balance the objects, but he is also learning cause and effect, trial and error, hand-eye coordination, fine motor improvement, concentration, and even emotional awareness.
Puzzle Center:
Having a puzzle center is great for building hand-eye coordination, problem solving, and fine motor skills. For younger children ages 1-3 this can include in and out activities, peg/knob style puzzles, and chunky puzzles. Children ages 4+ can usually start engaging with floor puzzles, which help build skills for the harder jigsaw puzzles.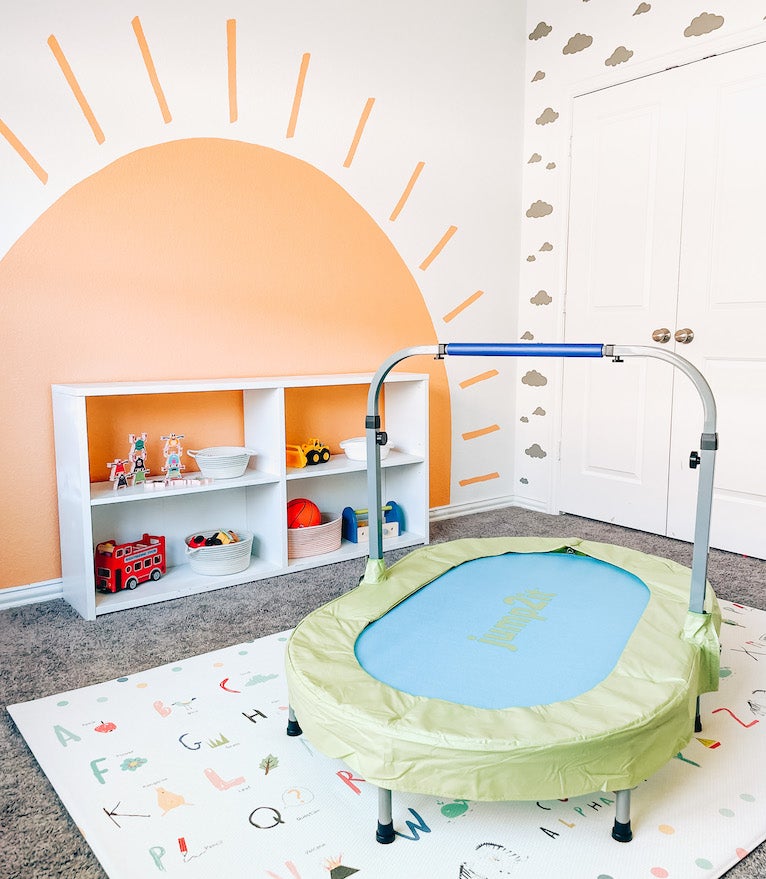 Motor Skill Center:
Believe it or not simply having play cars, trains, balls, or musical instruments in your playroom all greatly benefit your child's motor skills because it encourages movement in some shape or form. But I think it is also beneficial to have a space for bigger movement, and the hardest part about this is often not having enough space. Our playroom is not very large, and so organization plays a huge part in how I plan this space. For this reason, I really love the Jump2It Indoor Trampoline that HearthSong offers. One of the greatest features is that it is foldable and easy to store or move out of the way. It also has an adjustable handle that we can move up as my son grows. This type of toy gives my child an indoor physical activity that he can do to get out his wiggles, while also developing strong gross motor skills such as balance and jumping.
Dramatic/Social/Emotional Play Center(s):
Children like to follow our lead and imitate the daily activities they see us doing. Dramatic play helps children become aware of themselves, their place in this world, and how the world works around them. Social/emotional play helps children not only understand their feelings but also the feelings of others, and how to interact in different social settings. So what kinds of activities help with all three? Some ideas include: play kitchen, costumes, dress up items, doctor kit, doll house, dolls, grocery cart/register, or even a tool kit. Children can also benefit from safe real-life objects such as a wallet, an old telephone, calculator, or even clothes to pretend dress up.
Within these categories, I find it a lot easier to rotate toys. I simply switch out the centers with a toy that focuses on that type of play. This is how I know my child is getting to play with toys that benefit each part of his development. So whether you have an actual play room, or just a play space in your home, organizing toys by centers will greatly impact your child's development, guiding them to grow in all aspects!
About Andrea Pa:
Certified in early childhood education and experienced in the visual arts, Andrea combines her love of education and art to create her blog—To: The Simple Heart. She is best known for DIY, home design, and tips on creating kid spaces.  When she is not creating, she likes to spend her time with her family, reading a good book, and traveling.
Get to know her!