What's the most anticipated day of the school year? (Hint—it's not final exams, the spring program, or even the last day of school...) It's FIELD DAY, that glorious day at the end of the school year filled with games & healthy competition, sunshine & laughter, popsicles & hot dogs, no pencils or papers...and did we mention games? This important day gives kids of all ages a chance to celebrate the school year coming to a close, show some class pride, and spend a whole day being active (after all, the US Dept. of Health and Human Services recommends kids get at least an hour of moderate-to-vigorous exercise a day—what better way to make that happen than through FUN and GAMES?).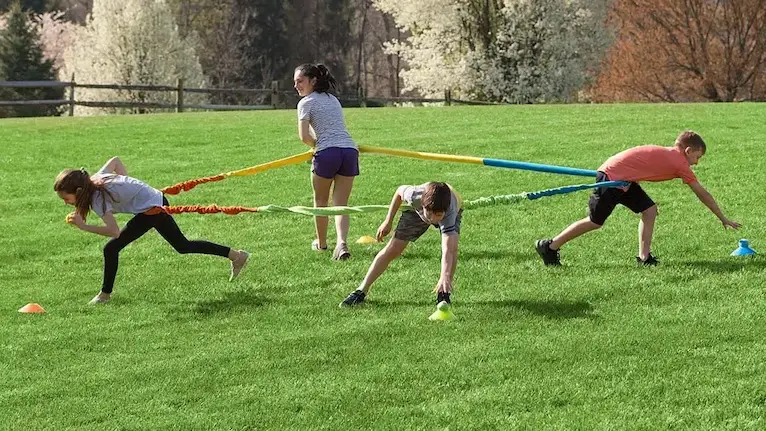 Pulling off a successful field day is a large undertaking; but with the right amount of planning and organization, this end-of-the-year celebration will be an event that your children will remember for years to come! So how do you plan a Field Day to Remember?
1. Pick a date & location!
Field Day is often planned for the end of the school year, or just before your school's spring break. Some schools opt to have this active celebration BEFORE end-of-year tests. Planning the specific date depends on your school's calendar and venue availability; and you'll also want to keep your locality's weather patterns in mind when planning—running the 100 yard dash in 100+ temperatures might not be the best option.
Where should you hold your Field Day? If your school is hosting this event, the athletic fields are the perfect place to spread out and play. Rainy day? Keep it indoors in the school gym. Homeschoolers—check your community park for open playing fields. You can even scale down your events to a backyard if you're hosting a family or neighborhood Field Day. The key is—just make sure there's plenty of open space for kiddos to run and play safely, and ensure the area is clearly marked off for play.
2.  Enlist volunteers.
To host a successful field day, you'll need an army of volunteers...the more, the merrier! Be sure to clearly assign and explain each volunteer's roles and responsibilities to keep everything running smoothly:
Teachers and/or parents

 

should typically be in charge of supervising activities, guiding students from one activity to the next, and ensuring safety throughout the day. It's also important to monitor children for signs of dehydration, sunburn, or exhaustion, and have first-aid kits and sunscreen on-hand at all times. Teachers should also ensure that all students understand the rules before play.
High school students

 

and

 

community leaders

 

are great resources for additional

 

volunteers!

 

(It's a great way to allow older kids to mentor their younger counterparts). These volunteers can help run stations, make sure the rules are followed, hand out water, or just encourage the students to DO THEIR BEST with a great attitude. Ask your high school's guidance counselor to provide you with a list of responsible helpers.
Students

 

have a responsibility as well—they need to be mindful of the rules and exhibit good sportsmanship. All children should learn early on that winning and losing is a natural part of life: good sportsmanship is simply learning to be a humble winner and a gracious loser. Teach them to always do their best without whining and complaining—life lessons!
3.  Plan your theme and gather prizes.
Do you want competitive games where teachers are tracking and adding up points for a prize—student vs. student or 5th grade vs 4th grade? Or will you opt for a more collaborative style with all classes working together towards an end goal? Both options add value to kids' play: reinforcing teamwork and sportsmanship, encouraging kids to do their best at every task they undertake, and cheering on their team-mates. Here's a few helpful ideas for affordable prizes and trinkets to offer your "winners": 
Pizza or ice cream parties
Check out HearthSong's

 

Fun Gifts Under $30

 

for small, affordable gifts suitable for homeschool or backyard Field Days
4.  Structure your game set-up.
No matter how you decide to play the day away, your activities need to have structure—and there are several ways you can organize this time. Use a timed schedule and Station Activities where kids or classes rotate through stations; opt for a Festival-Themed play day reminiscent of a carnival (go big with extras like dunk tanks, concession stands, and Giant 7-Foot Inflatable Bounce House and Climbing Cube if your budget and space allows); if you have access to a track, use the track and infield for Track & Field Style races, relays, and field events. Helpful hint: no matter how you style your Field Day, be sure to plan lots and lots of water, snack, and rest breaks—both for students AND volunteers.
5.   Final prep:
In the remaining days before the big event, make sure everyone involved has their game face on, and is ready for a full day of fun:
Teachers, parents, and volunteers should be familiar with the games, the rotation and schedule, and location of time-out or cool-off spots.
Students should know what's expected of them—play hard, have fun, encourage your friends and classmates, and be a GREAT sport!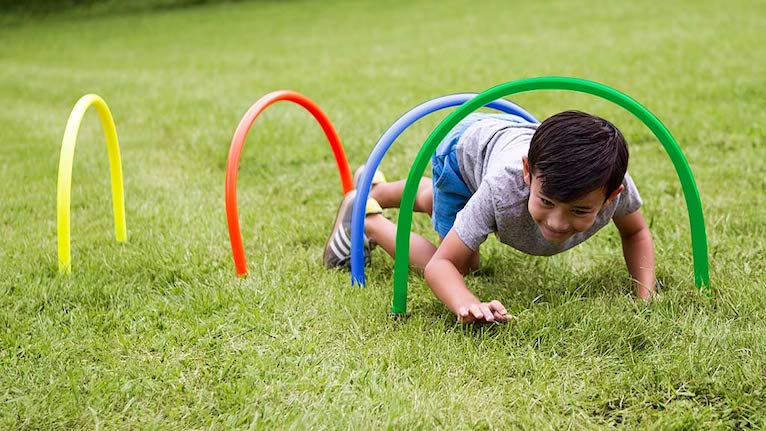 BEST FIELD DAY ACTIVITIES
Now that we've got the planning essentials down, we've come to the fun part: what are the best field day activities and games? 
A) Traditional: Chances are, we all remember a few staples from our grade-school days. Here's a list of classic oldies-but-goodies:
B) Sprints & Relay Races: With just a few extra supplies (balloons, batons, eggs & spoons), set up a series of sprints and relay races that encourage teamwork (and quick footwork):
Track & Field Baton Relay Race
C) Water Games: Everyone looks forward to cooling off with a little water play on Field Day!
D) Collaborative Games: Work together as a team, and win BIG!
E) One-on-One Challenges: Grab an opponent: the challenge is on!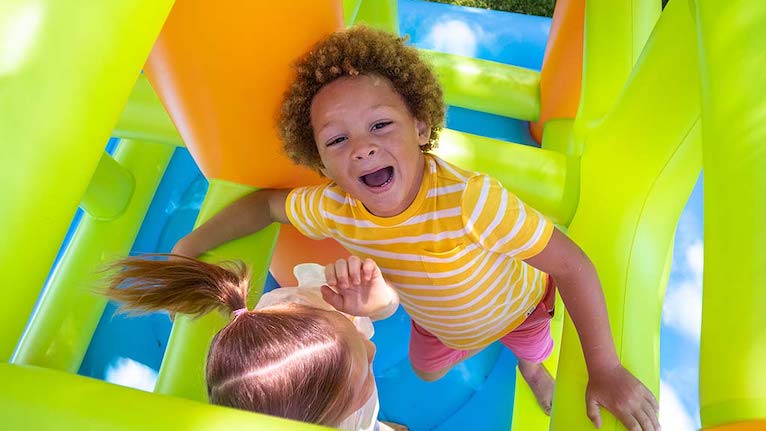 F) Festival-Themed: Just add kettle corn, cotton candy, and food trucks...
Ring Toss—turn it into Human Ring Toss by using inflatable pool rings and aiming for your friend!
G) Backyard Games: Have a few games and activities set out for siblings, parents, or kids who need a little "time away" from the competition:
H) Tiny Tots: Be sure to have games and activities on hand for the littlest gamers and players:
Bubble Station: Fill a kiddie pool with bubble solution (6 cups water, 1 cup dish soap, and ½ cup light corn syrup). Make your own wands with hula hoops, wire hangers, or pipe cleaners.
Pirate's Treasure: Bury small gifts or trinkets in a sandbox or kiddie pool filled with sand.
Share your fantastic field day fun with the HearthSong family @hearthsong!
Extra Resources
Game Instructions:
Sponge and Bucket Relay Divide into 2 teams. Place a bucket of water and a big sponge at one end of each line, and an empty bucket at the other end of each line. The first player soaks the sponge in the bucket of water, then passes the sponge down the line over their heads! Once the sponge reaches the end of the line, the last player squeezes the sponge out into the empty bucket, then runs the sponge to the back of the line and the process starts over. Whichever team fills up their bucket first wins.
Beach Ball Blaster Spit into teams, with all participants using a large super soaker water blaster to make their inflatable beach ball cross the finish line first.
Keep it Up Players work together to volley a beach ball as many times as possible without letting it touch the ground.
Mine Field Set out soft obstacles throughout your playing field (pool noodles, balls, etc.), and blindfold your partner. Guide them through the mine field with verbal commands: "forward, straight, backwards", etc. without touching any of the obstacles. If they bump into anything, they must start over.
Beach Ball Race 2 players work together to carry a beach ball across a finish line—no hands allowed! Use heads, backs, stomach, shuffle sideways...but no hands.
Ping Pong Shake Cut 2 slits on each side of an empty tissue box, and attach around your waist (box in back) using a belt or scarf. Fill the box with ping pong balls and shake them out (no hands allowed)!
Stack it Up Using 21 plastic cups, be the first to complete a pyramid. (Tip—start with 6 on bottom, then 5, etc.)