Blog posts Updating Your Backyard Play Space Submit Title Updating Your Backyard Play Space Content
Perhaps your backyard features a traditional A-frame swing set with swings and a slide, or an inviting wooden playhouse that beckons imaginative play. These essentials play an important role in our young kids' lives—from the playground to the backyard, our toddlers and preschoolers will spend HOURS playing, swinging, and sliding on those classic playtime structures. Great outdoor play sets offer fun and entertainment, and help children develop balance, coordination, and strength. (Plus, they offer sanity to overworked parents and caretakers, am I right?)
The swing set, or playhouse, is an investment that many parents and/or grandparents purchase to amplify their little ones' backyard play adventures; and we believe investments should last for many years. But as kids get older, it becomes necessary to make the backyard swing set or wooden playhouse more age-appropriate, inviting, exciting, and challenging!
When deciding how to alter your backyard play space, there are 3 questions to keep in mind:
1. Can I add features and accessories to my play structure to make it more appealing to a wide variety of ages?
2. What can I safely modify?
3. Are there additional playthings I can add surrounding my swing set or playhouse that would increase the fun value?
Keep reading for some handy tips on how to upgrade and/or modify your swing set or playhouse without removing or replacing it! (Keep in mind that you should always consult a professional whenever modifying any play structure, and that any add-ons or modifications should always be compatible with your swing set and age-appropriate for the children using it; the following are simply suggestions).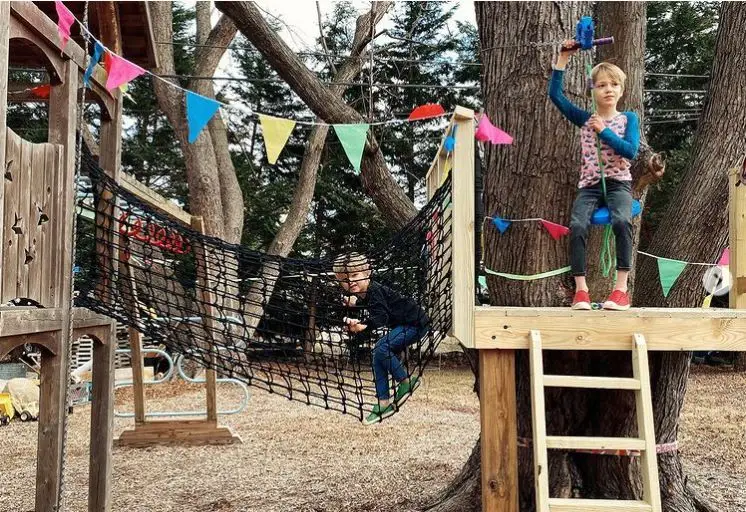 Q: How can I make my outdoor play space more inclusive for all ages & abilities?
A: Chances are, your traditional swing set consists of 1 or 2 simple swings, a slide, and perhaps a small playhouse for pretend play. And that serves its purpose well for the toddler and preschool years, but if you want to keep the kids scrambling to the backyard when they reach 8, 10, or 12 years old, you'll need to make some adjustments. Here's a few thoughts from the play experts at HearthSong:
Add climbing equipment: Climbing is a full-body workout, and kids love it because the instinct to climb is completely natural (ahem...we know your toddlers attempted to climb onto the kitchen counter a time or two...) Add a wooden plank with rock-climbing accessories to one end of your structure, or a rope that kids can pull themselves up or rappel back down. A climbing ladder is another exciting way for kids to test their physical prowess, and enjoy a rush of satisfaction when they make it to the top—add our

Triangle Rope Climbing Ladder

for a fun way to climb to the top of the playhouse. Attach our

6-Foot Woven Rope Tunnel

for a super-cool place to climb, crawl, or just hang out and relax!
Add athletic accessories: If space and your structure permits, and your children are physically ready for the challenge, you can add monkey bars or trapeze rings to the top of your swing set. These types of active toys require coordination skills and build an athletic core and arms. Now your thrill-seeking older kids can swing like Olympic gymnasts!
Upgrade your swing: The most basic swing set can be amped up by swapping out a plank or sling swing with a more unique swing (tire swing, saucer swing, etc.) that can be swung in all different directions, and come in all different shapes & sizes.

Check out our Swing Comparison Guide to help you pick the PERFECT swing for your backyard. Pro tip: always leave at least 8" between swings, and 7" between swings and the support pole, when installing a new swing. And as always, reference your structure's manufacturer for specific information on items that can or cannot be added to or modified.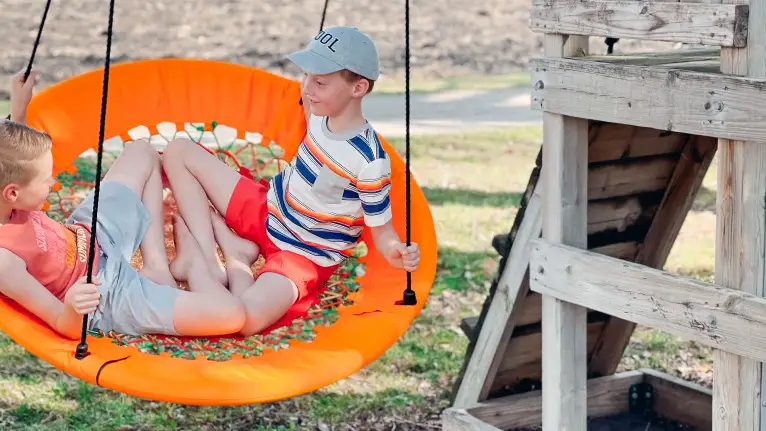 Q: How can I make my outdoor play space more inclusive for all ages & abilities?
A: Ever heard of glamping? Or the tiny-house trend? You don't need a lot of space to create a unique and awesome play space! A few simple additions can make a huge difference:
Hang some outdoor-safe lights: Add sparkle to their space with

battery-operated LED lights.

With a little extra light, you can extend play into the nighttime, add a special touch to a backyard treehouse sleepover, or just enjoy the twinkle.
Improve your curb appeal: Attach a mailbox to your play house (one that's intended for a townhouse is perfect), and drop some hand-written notes (trust us, they're more valuable than you realize), "junk mail", cut-up cardboard "coupons", or even your most recent HearthSong catalog for the kids to dog-ear. You can also re-purpose a section of unused gutter to rig up a flower box on the outside of your kids' playhouse and add some floral appeal.
Snack time!: Add a dinner bell to call all friends (real and imaginary) for outdoor picnics and important "meetings."
The ultimate hang-out nook: If you have enough space underneath your playhouse, attach a cargo net and add a blanket or cushion for a great place to read and relax.
(Extra-extra): Get your kids involved—modifying your playset is a great way to get kids involved in using equipment like a drill or saw (of course, as always, adult supervision REQUIRED). Give them specific tasks, and let them feel the pride from helping construct their own space!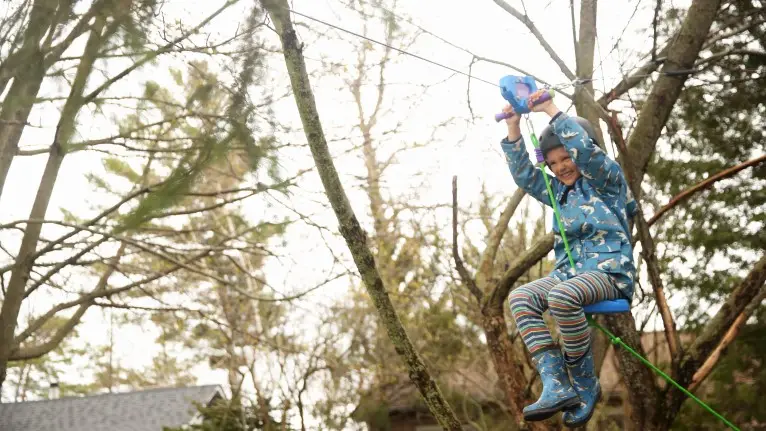 Q: I'm not quite ready to modify my playhouse. How else can I amp up the play value of my backyard surrounding it?
A: No worries...if you're not ready to alter your swing set or playhouse, we have a simpler option. Just add a few toys, tools, and accessories nearby—kids of ALL ages will play together!
Sensory play: Add a sandbox or mud kitchen close by for hands-on play. For those children who are more interested in this type of creative play, they can become completely absorbed in their own world while their siblings enjoy the swing set!
For tree-lovers: If you have some sturdy trees in your backyard, add one of our

Ninjaline Obstacle Course Kits

or a customer-favorite

Zipline.

For adventure-lovers who like to test their limits, these activities will entertain them for HOURS!
Game day every day: HearthSong has the biggest variety of

Backyard Games

— have a few on hand, and the kiddos will never be bored!
Let the swing set and playhouse "flipping" begin! Share your upgrades #hearthsong.
Excerpt Add a summary of the post to appear on your home page or blog. Search engine listing preview Updating Your Backyard Play Space https://www.hearthsong.com/blogs/blog/updating-your-backyard-play-space Skycurve Rectangular Platform Swing Perhaps your backyard features a traditional A-frame swing set with swings and a slide, or an inviting wooden playhouse that beckons imaginative play. These essentials play an important role in our young kids' lives—from the playground to the backyard, our toddlers and preschoolers w Comments Comments for this blog are disabled. To change how comments are handled, edit the Blog blog. No comments yet Visibility Visibility Visible (as of 4/5/2022, 1:30 PM EDT) Hidden Featured image Upload image No file chosen Remove Organization Author Michele Lambertus Blog Blog Blog TAGS Edit tags Vintage, cotton, summer Online store Theme template Default blog post Default blog post Assign a template from your current theme to define how the blog post is displayed.